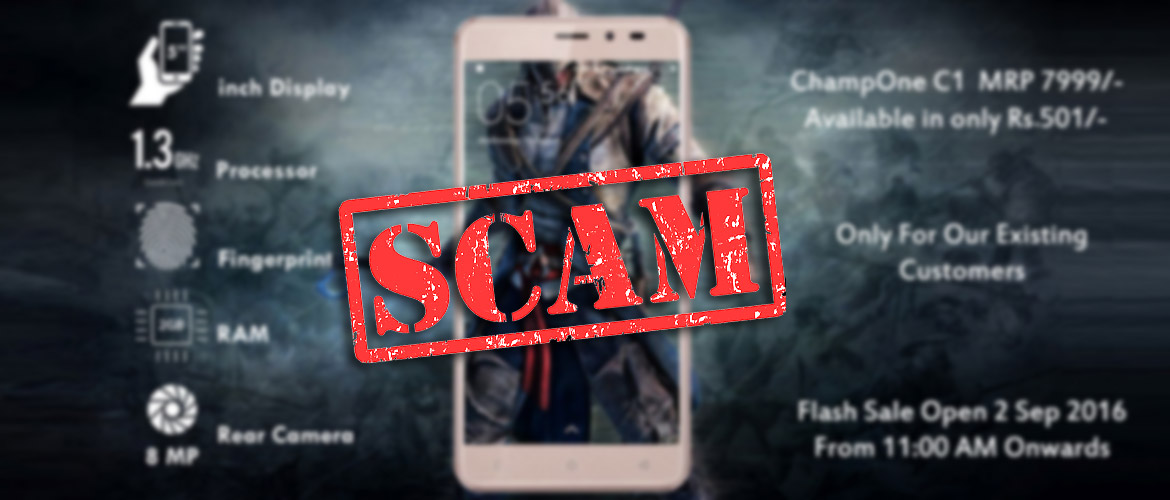 After the Freedom 251 debacle, it seems most still haven't learnt that if a deal is too good to be true, it probably is. The ChampOne C1 4G is next in the lineup promising 4G with a fingerprint sensor, HD display at just Rs. 501.
But the fine-print here is that, this price is applicable to the only few who could get the phone on the flash sale on September 2nd, after which it will be sold for Rs. 8000. So, ChampOne is only looking to grab some headlines just like others did before them. The Namotel Acche Din, Docoss Z1, Mango mPhones and the likes.
We should learn the value of our data, our names, email addresses and phone numbers which are associated with our bank accounts, social networks. Coming back to the ChampOne C1, at the time of writing this article, the Register button on the site was not working and it said that they were facing some issues with their payment gateway provider which meant you couldn't register for the next 24 hours.
Just as with Ringing Bells, their customer care numbers don't seem to be working either. The signs don't look good and it's time our government becomes more vigilant before giving certifications to such smartphone "companies" who don't even have working phones in their offices. A Rs. 501 smartphone with fingerprint sensor and 4G is a marketing gimmick for sure but that's not the only ploy here. Gathering data of lakhs of users is. That's how they plan to make money, by selling all your personal information to advertisers and spammers.
ChampOne could have sold the phone for Rs. 8000 in India and that would have made more sense. It sounds like a decent budget option with a MediaTek MT6735, 5-inch HD IPS display, 2GB RAM, 16GB storage, 8MP/2MP cameras but they weren't planning to compete in the real world. Instead they have resorted to the tried and tested scamming approach. We would advise all of you again not to fall for such traps and reveal your personal details to these companies. There have been many articles of late saying it's a safe bet given that the phone would be available on COD, but you need to start valuing your data more than getting a smartphone on the cheap.