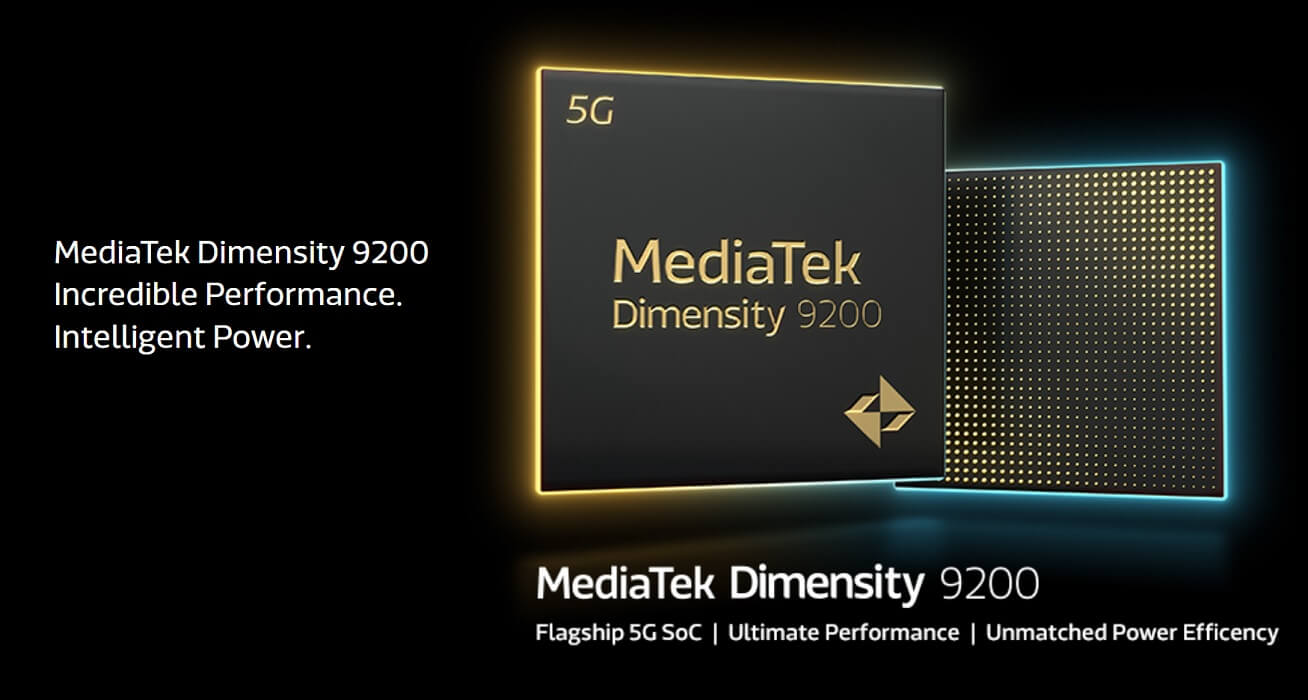 MediaTek has announced its latest flagship processor the Dimensity 9200 SoC. It is the first to use second-generation TSMC's 4nm process tech that has a better heat dissipation package design and the CPU peak performance power consumption is reduced by 25% as compared to the predecessor, according to the company.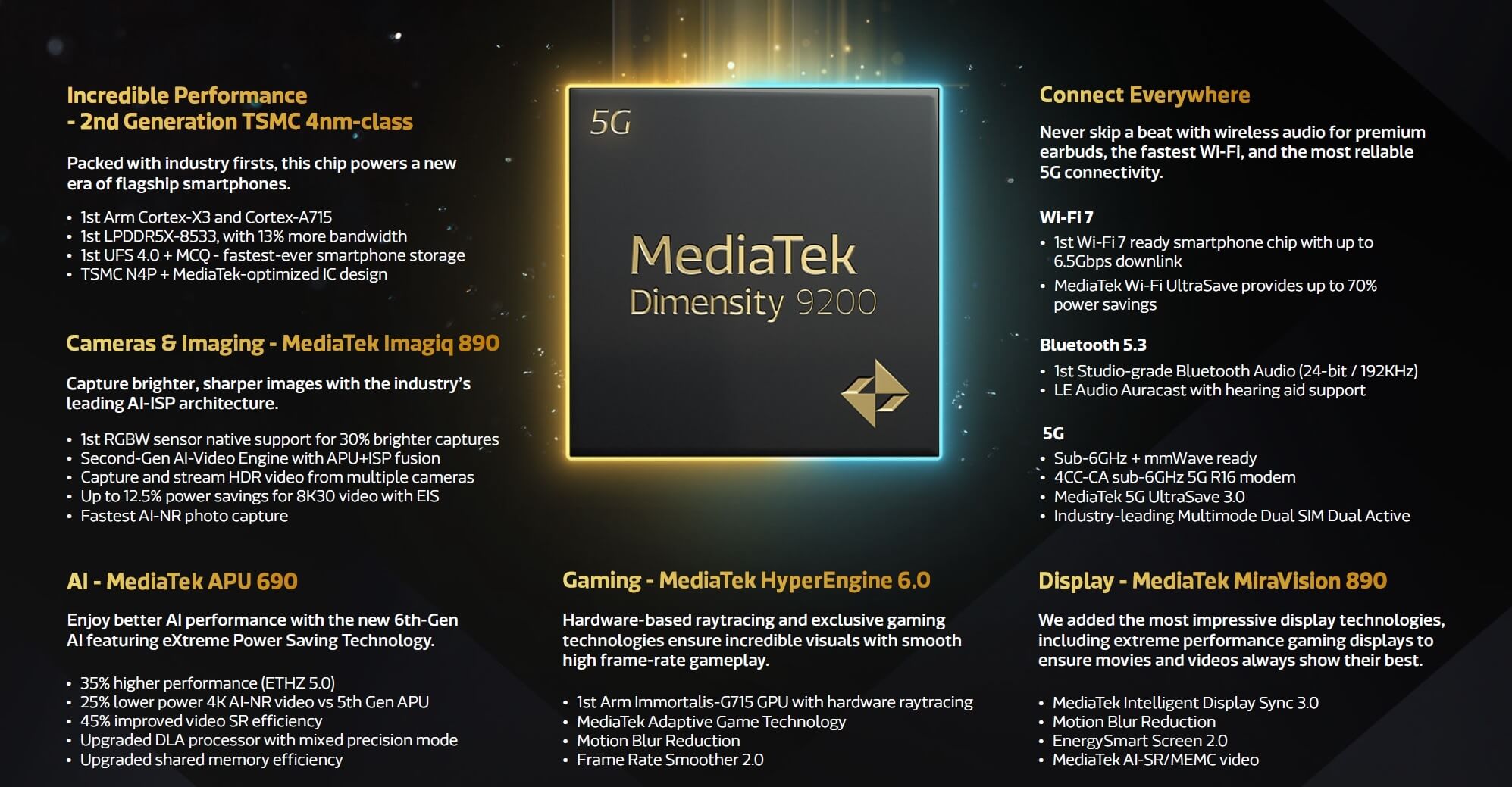 CPU and GPU -
It is the first process to use the latest 1 x ARM Cortex-X3 prime core clocked at 3.05GHz and 3 x 2.85GHz A715 performance core while using the same 4 x 1.8GHz A510 power-efficient CPU cores. The company also said it achieved 1.26 million points on AnTuTu surpassing all current Android flagship phones.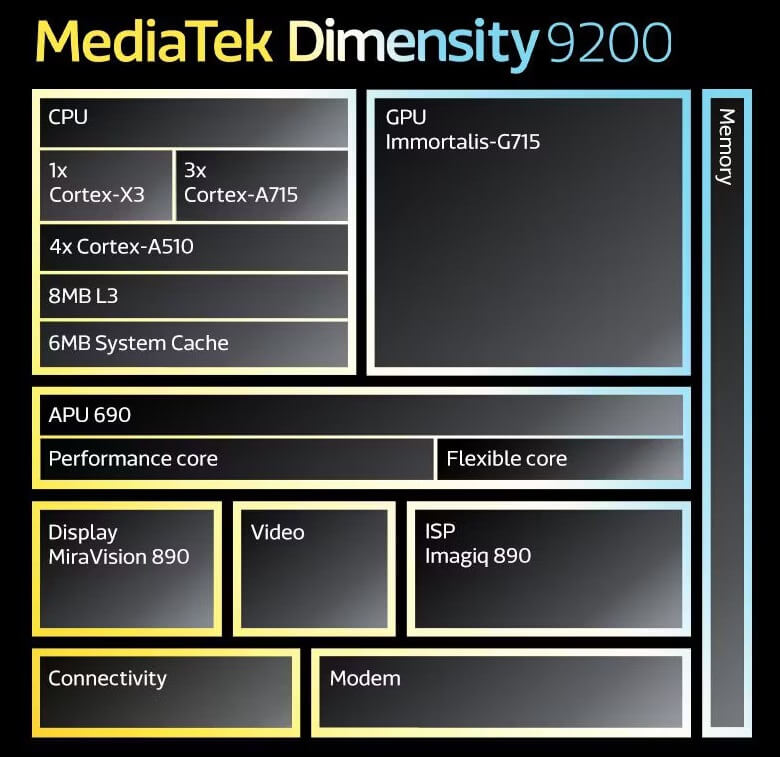 It has a new Immortalis-G715 GPU, which promises a 32% performance improvement compared to the previous generation. It also supports a hardware-based ray tracing engine and variable rate rendering technology. MediaTek said that it has partnered with Tencent's Dark Zone Breakout for enabling mobile ray tracing technology and creating the ultimate gaming experience for gamers.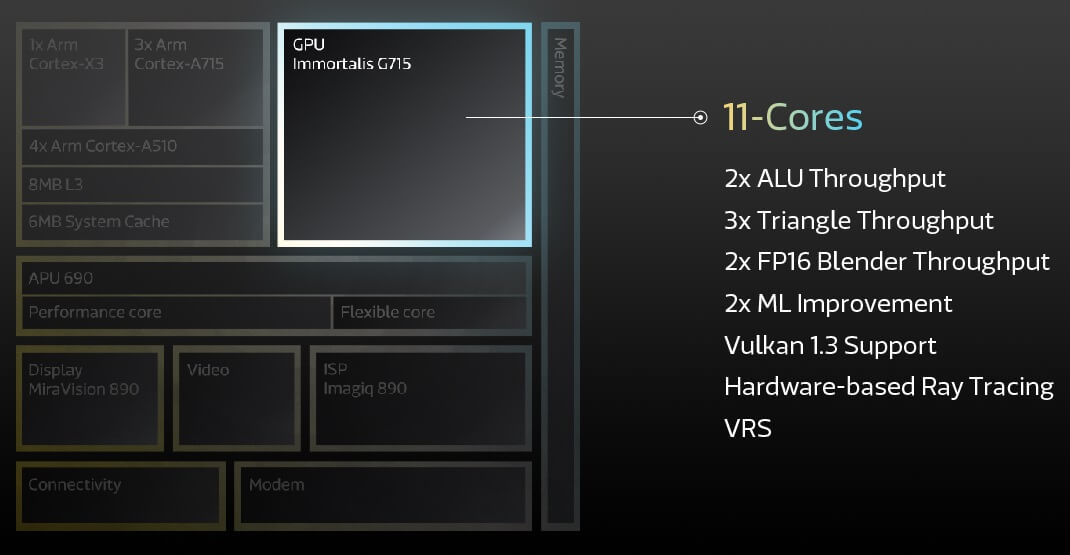 By working in game engine optimization and meticulous polishing, it promises realistic effects such as shadows, reflections, and ambient lighting. The Dimensity 9200 supports MediaTek's HyperEngine 6.0 Gaming Technology for fast, fluid action so gamers can immerse themselves in every scene, in epic detail.
Display -
It supports Full HD+ up to 240Hz, WHQD up to 144Hz, and 5K (2.5Kx2) up to 60Hz, with adaptive refresh rate technology for a smooth user experience. With support for extreme-performance gaming displays, eye-catching resolution, and extended foldable designs, the chipset's MediaTek MiraVision 890 display technology brings content to life.
APU -
The chipset's sixth generation AI Processing Unit (APU 690) enhancements include up to 35% faster performance in the ETHZ5.0 benchmark compared to the fifth generation APU and also reduce the power consumption of various AI applications.

With the eXtreme Power Saving Technology for AI-noise reduction and AI-super resolution tasks, the Dimensity 9200 promises up to 30% power savings with AI-NR and 45% power savings with AI-SR in all visual applications.
Camera -
MediaTek Imagiq 890 can grab the raw images straight from the sensor making your AI camera faster and extending battery longer than ever before.
It is the world's first chip to support a native RGBW sensor. RGBW sensors give 30% more light sensitivity, and this chip is the first to support them natively, giving it a 34% power efficiency advantage. HDR and low-light video and photo capture produce brighter, sharper pictures with notably greater detail.
Connectivity -
The Dimensity 9200 is the first Wi-Fi 7-ready smartphone platform, supporting up to 6.5 Gbps data rates. The chipset integrates an advanced, built-in 5G modem with AI for faster network searching, 5G connection recovery out of dead zones, and other intelligent connectivity enhancements.
It also delivers seamless 5G experiences by fluidly switching between long-reach sub-6GHz and superfast mmWave connections simultaneously. MediaTek's Bluetooth 5.3 and Wi-Fi coexistence technology allows Wi-Fi, Bluetooth low energy (LE) audio, and wireless peripherals like gamepads to connect at the same time without interference.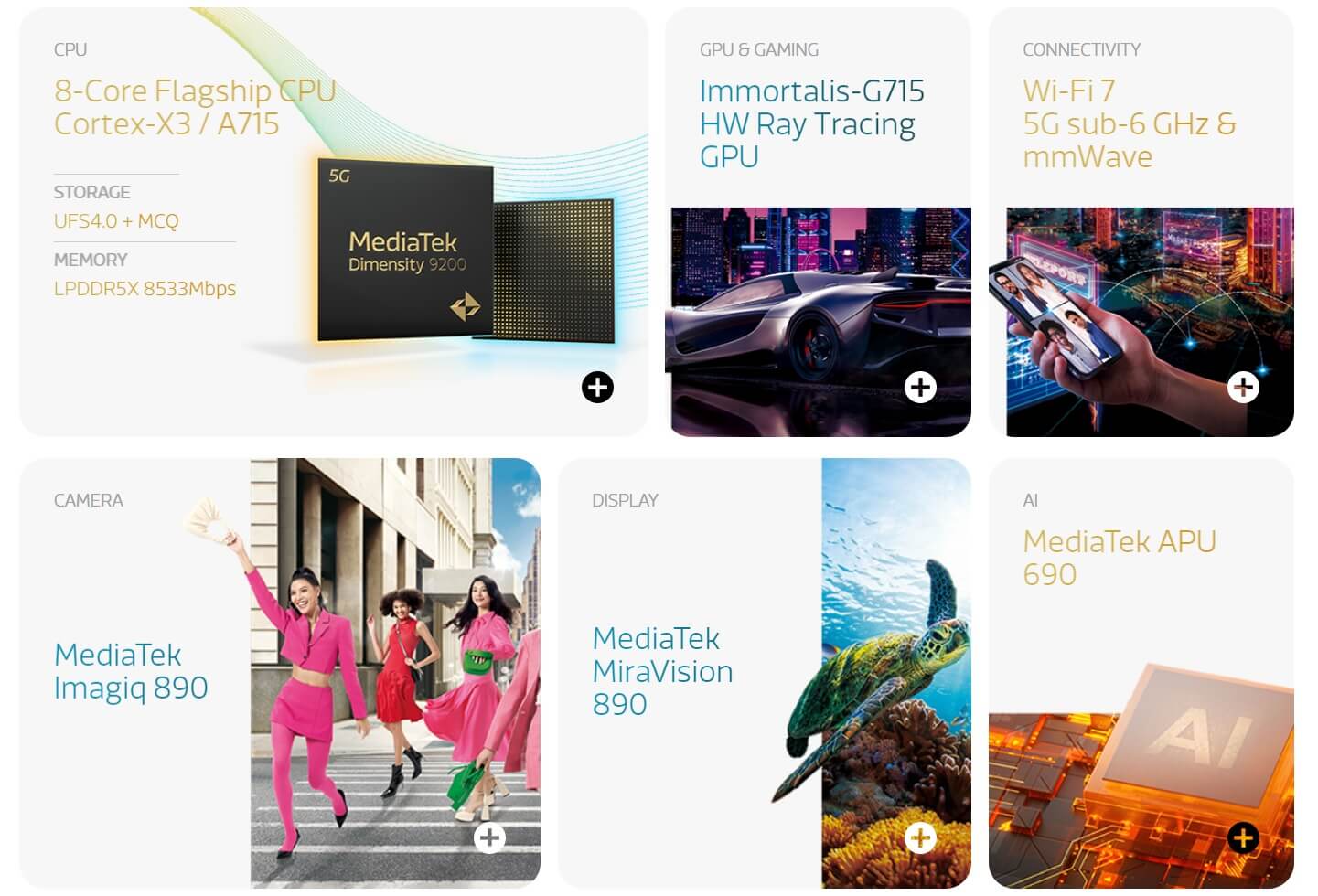 MediaTek Dimensity 9200 Other key features -
2nd Generation TSMC 4nm process: 1x Arm Cortex-X3 at 3.05GHz, 3x Arm Cortex-A715 at 2.85GHz, and 4x Arm Cortex-A510 at 1.8GHz, optimized to improve power efficiency in combination with MediaTek's innovative thermal package design that keeps smartphones cool.
Cutting-edge display technology Supports Full HD+ up to 240Hz, WHQD up to 144Hz, and 5K (2.5Kx2) up to 60Hz, with adaptive refresh rate technology for a smooth user experience.
AI visual semantic display: Optimizes picture quality with multi-person segmentation and multi-layer color management per scene.
MediaTek AI-SR/MEMC: Provides best-in-class video streaming.
MediaTek Smart Blulight Defender: Ensures a more comfortable viewing experience.
Bluetooth LE Audio-ready technology: Brings best-in-class audio latency with Dual-Link True Wireless Stereo Audio for incredible sound quality.
LPDDR5X with support for up to 8533Mbps memory: Delivers the fastest smartphone memory.
UFS 4.0 with Multi-Circular Queue (MCQ): Provides each Cortex-A510 CPU core with direct access to storage, significantly boosting data transmission in multi-thread applications.
Availability -
The MediaTek Dimensity 9200 will be powered in the flagship phones by the end of 2022. At the China launch event, Vivo confirmed that it will be one of the first to launch the Dimensity 9200-powered phone which should be the Vivo X90 series that is expected to announce next month.
The other companies OPPO, Xiaomi, HONOR, Transsion, ASUS ROG, and more said that they are looking forward to equipping their upcoming devices with the Dimensity 9200 chip without confirming the model numbers.