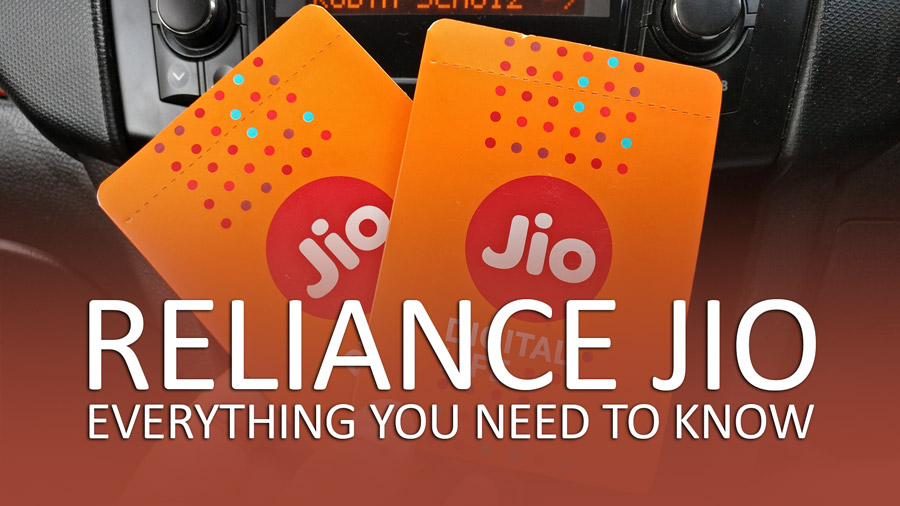 There was a lot of fine print about Reliance Jio 4G plans and its pricing. In this post we will try to clear all your doubts, questions regarding tariff and data packs.
During the AGM, Mukesh Ambani had announced that the "effective" price of 4G LTE data would be around Rs. 50/GB on Jio, but after the plans were revealed with a simple calculation you could see that we would be paying much more. There are few such details that were missed earlier about the Welcome offer, which you can read about here.
So the first thing you need to know is that there is no Rs. 50/GB plan or add-on, that is a calculation that Reliance thought would look great in a presentation and is a bit misleading. But it may have some footing, which I will talk about in a short while.
Before we talk about the plans, let me clear some doubts and questions that we have been getting from our readers and viewers:
1. Does Reliance Jio work with 2G/3G smartphones?
No. Reliance Jio needs a 4G smartphone to work and for voice calls you would need a 4G VoLTE capable smartphone. Otherwise you would need to make voice calls using the Jio 4G Voice app (formerly Jio Join). However you can buy a JioFi WiFi hotspot device and connect your 2G/3G smartphone to it and make phone calls, again using the Jio 4G Voice app. But these calls will use your data balance, and therefore ultimately will not be free.
2. Do VoLTE calls on Jio use my data pack balance?
Again no, voice calls made to any network from a Jio number are free and they don't use any of your data balance. You can turn Mobile data off and still your calls will go through. But this is only the case if you have a 4G VoLTE capable smartphone, if not then calls can only be made using the Jio 4G Voice (JioJoin) app which does use your data balance. So do keep this in mind.
3. What are the night timings for unlimited 4G data download?
The Night Timings for Jio are 2AM to 5AM when you can download data without any cap.
4. What is the difference between 4G Data and WiFi Data, can I use WiFi data in my home?
WiFi data allowance can only be used at a Reliance JioNet hotspot. These would be public hotspots which the company plans to set up near schools, colleges, possibly railway stations, bus stops and other such places. There is no relation between WiFi (JioNet) data and 4G data balance. Once you exhaust 4G data balance on your Jio plan, you would have to either recharge with a top-up or pay usage charges even if you haven't used any WiFi data. Moreover, there is again no relation between WiFi data and the JioFi WiFi hotspot. The JioFi WiFi hotspot will need to be recharged with the same plans as your phone and its data usage will be deducted from 4G data allowance and not WiFi (JioNet) data.
5. What are the charges once I exhaust my data plan?
You will be charged at Rs. 250/GB with a 10KB pulse for 4G cellular data. Meaning for every 10KB of data used you will have to pay 0.25 paise (which is still 40 times cheaper than Airtel and Vodafone). If you run out of WiFi data balance on a JioNet hotspot, you will be charged Rs. 50/GB. Please keep reading for the data top-ups once you exhaust your monthly plan.
6. When will MNP start?
At present there is no confirmation on MNP or porting to Reliance Jio from any other network. But from what we have gathered its coming in 2017, right now Jio wants you to get a new number starting September 5th and enjoy free services till December 31st.
7. Would data used by Jio Apps be counted from my data balance?
Yes, the data that Jio Apps use will be counted from 4G balance that you get with your plan. So even if the subscription to these apps is free, you are being charged for data.
Now, before we dive deeper into the rabbit hole, here's a look at the all-in-one Reliance Jio 4G plans which will go live from January 2017:
Reliance Jio 4G Tariff, Plans, Data Packs (Monthly)
S

M

M

L

XL

XXL

XXXL

Jio Tariffs

Rs. 149
Rs. 499
Rs. 999
Rs. 1499
Rs. 2499
Rs. 3999
Rs. 4999

4G Data

0.3GB
4GB + Unlimited Night Data
10GB

+ Unlimited Night Data

20GB

+ Unlimited Night Data

35GB

+ Unlimited Night Data

60GB

+ Unlimited Night Data

75GB

+ Unlimited Night Data

Jio Apps Subscription

Yes

Yes

Yes

Yes

Yes

Yes

Yes

Unlimited SMS

100

Yes

Yes

Yes

Yes

Yes

Yes

WiFi (JioNet Hotspot)

-
8GB
20GB
40GB
70GB
120GB
150GB

Validity of Pack (Days)

28
28
28
28
28
28
28
Reliance Jio 4G Plans (Daily, Weekly)
| | | | |
| --- | --- | --- | --- |
| | XXS | XS | S |
| Jio Tariffs | Rs. 19 | Rs. 129 | Rs. 299 |
| 4G Data | 100 MB + Unlimited Night Data | 750 MB + Unlimited Night Data | 2GB + Unlimited Night Data |
| Jio Apps Subscription | Yes | Yes | Yes |
| Unlimited SMS | Yes | Yes | Yes |
| WiFi (JioNet Hotspot) | 200MB | 1.5GB | 4GB |
| Validity of Pack (Days) | 1 | 7 | 21 |
Data cost per GB Calculation for Monthly Plans (28 days)
Plan
Data Allowance
Price
Cost/GB
S
300 MB
Rs. 149

Rs.

497
M
4 GB

Rs.

499

Rs.

125
M
10 GB

Rs.

999

Rs.

100
L
20 GB

Rs.

1499
Rs. 75
XL
35 GB

Rs.

2499

Rs.

71
XXL
60 GB

Rs.

3999

Rs.

66
XXXL
75 GB

Rs.

4999

Rs.

66
So, as you move to higher plans, the cost per GB of data gets progressively lower. Now, if we try to make a case for Reliance Jio, you are also getting bundled WiFi data which can only be used at public JioNet hotspots. Most of which are yet to be established. Then you are also getting bundled Jio Apps subscription, unlimited SMS (100/per day- TRAI regulation) as well as unlimited voice calls. So the cost does add up. One thing that I am most miffed about and so would you be is the unlimited night data, which is a farce to say the least. Night for Reliance Jio starts at 2AM and ends at 5AM, while the rest of the carriers offer night packs from 12AM till 6AM. So that Unlimited Night Data although without any data-cap will mostly remain unused until you can schedule downloads within precisely those intervals.
Again looking at the table above you can see that Reliance really doesn't want you to get that Rs 149 plan, they want to you to start with Rs. 499 plan and move higher as you get used to faster 4G data speeds. There is a Rs. 299 plan which sits between these too but it is limited to just 21 days, meaning two recharges per month, which almost comes down to the 499 plan. Therefore, Rs. 499 plan is still the most ideal plan, you get 4GB Data, unlimited voice calls as well as unlimited messaging.
Now, what happens when you exhaust your data balance. Well here's the pricing for data add-on packs:
STV
Add-on 1
Add-on 2
Add-on 3
Add-on 4
Add-on 5
Add-on 6
Add-on 7
Add-on 8
MRP
Rs. 151

Rs. 251

Rs. 451

Rs. 1001

Rs. 1501

Rs. 2501

Rs. 4001

Rs. 5001

Data Benefits

1GB 4G

+ 1GB WiFi

2GB 4G

+ 2GB WiFi

4GB 4G

+ 4GB WiFi

10GB 4G

+ 10GB WiFi

20GB 4G

+ 20GB WiFi

35GB 4G

+ 35GB WiFi

60GB 4G

+ 60GB WiFi

8GB 4G

+ 1GB WiFi
Even here you can see the average cost per GB is similar to the all-in one plans. So would have to pay Rs. 151 atleast once your data plan is exhausted. But even these come at a lower cost than both Airtel and Vodafone who still charge more than Rs. 250/GB of 4G data.