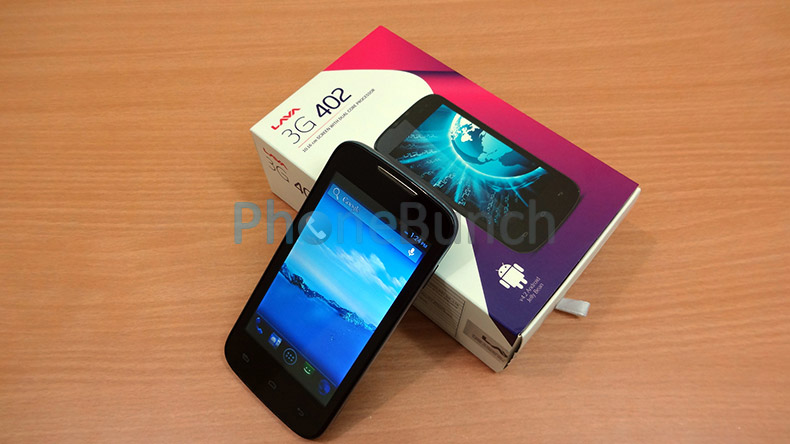 Introduction
Lava Iris 402 is an entry-level android handset featuring mid-level specs, such as a 1.2GHz dual-core processor and 4-inch WVGA (800 x 480 pixels) display. The Iris 402 is available for less than Rs. 5000 in India right now, and for that it packs in a lot of features including 3G with video calling, GPS and Android 4.2.2 Jelly Bean, which is not available in any other smartphone in this price range.
In The Box
The usual accessories are included with the Lava Iris 402 as well, including a white headset (with a black handset, typically Lava), a USB wall charger, a micro-USB data cable, a 1500 mAh battery and the handset itself. You also get a free screen guard and a good silicone case for the phone, inside the box.
First Impressions
The phone has good build quality and feels solid in the hands. The Iris 402 is quite light, has a slight textured backcover which makes gripping it easier. There's a 4-inch display which adorns the front of the device. Below the display are three capacitive buttons which do light up and are clearly visible. The volume rocker on the left and power button on the right felt sturdy and didn't make any clicking sounds.
The display is quite bright and delivers good viewing angles, with natural color saturation levels. The phone just has 256MB of RAM, and we thought that would hamper with its performance even though it has a dual-core processor. But we were pleasantly surprised to see the phone perform great after its first boot, zipping through the different home-screens and app drawer. But we'll reserve judgement for later in the coming week when we do a full review of the device.
Unboxing Image Gallery