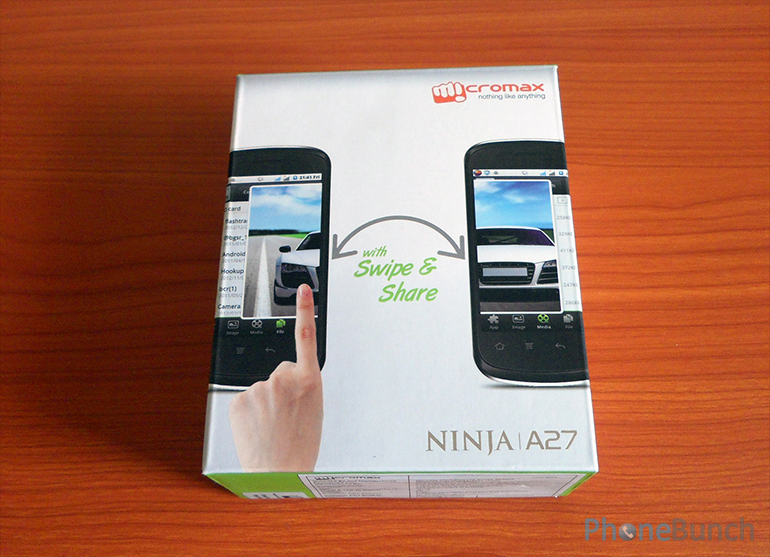 Introduction
Micromax A 27 Ninja is the latest entrant into the budget Android segment and tries to beat the competition with its 1GHz processor and plentiful 3.5-inch HVGA (320 x 480 pixels) display. The phone is available at Rs. 3,999 from online retailers and you might get it at a lower price in physical stores as well.
In the Box
There's the usual assortment of accessories inside the box, namely a very suspect quality headset, a wall charger which uses your Micro USB cable which is a welcome improvement, the MicroUSB to USB datacable, a 1400 mAh battery and the Micromax Ninja A27 handset.
First Impressions
At first glance the device does not seem a budget device, the back of the device has a textured finish which makes it very easy to grip. There's no creaking from any parts of the phone including the only pushable hardware buttons of the device, power and volume buttons. The 4 capacitive buttons at the bottom of the screen do not light up for some reason, possibly by design. The screen is great to look at, at just 165 PPI the screen seems great for video and images, but reading small text on the device can be a difficulty.
The most brilliant part of the device is how fast it is, the 1GHz Spreadtrum SC6820 processor although not very popular moves things along extremely quickly, the animations are slick as well as load times even with just 256MB of RAM. One issue we had with the screen is that it was registering our touch incorrectly, although this happened just once during our initial assesment and we were unable to reproduce it. We'll be back with a more detailed review of the Micromax A27 Ninja regarding its display, the VGA camera, benchmarks, gaming and multimedia features.
Unboxing Image Gallery