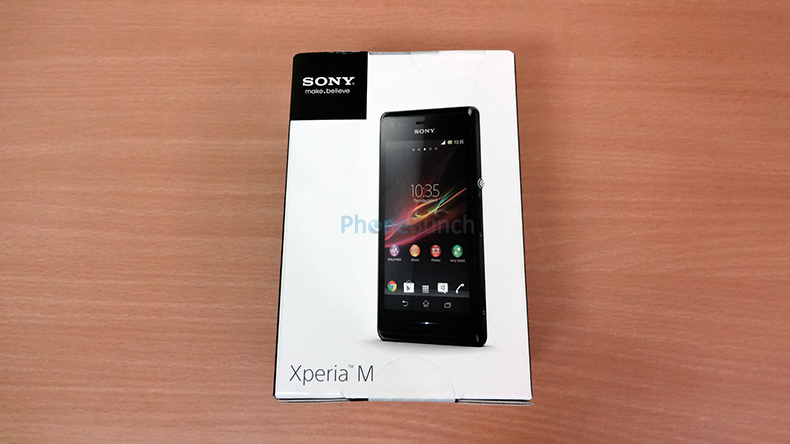 Introduction
The Xperia M is Sony's answer to the lower mid-range segment with great build quality and looks to boot. With this Sony is attempting to capture the entry level and mid-range segment in emerging markets. The phone is powered by a 1 GHz dual-core processor, assisted by 1GB RAM and 4GB expandable internal storage. Its the first phone to bring in NFC in this price segment. Sony Xperia M is available for Rs. 12,990 from various online retailers as well as physical stores.
In The Box
We have the usual accessories inside the box with the Xperia M, namely the USB wall-charger, micro USB data-syncing and charging cable, 1700 mAh battery, headset and the user guides. But we did miss NFC tags, which are generally included with high-end smartphones. The box feels nice, but a bit hollow and we are all for saving on the cost of packaging if you can get better build quality and features in a smartphone.
First Impressions
You feel great when you hold the device in your hand, the backcover has a matte finish which makes the Xperia M easy to hold. The first thing you notice when you boot the phone is its display, the Xperia M has one of the best displays we have seen in a long time. Although its quite reflective, but is extremely sharp and has great color reproduction. The phone has all the buttons on the right, including the steel power button which has become a signature of Xperia series.
The backcover is quite solid, and has the NFC antenna on it. The Sony Xperia M also has a silver metallic finish on all four sides, and has a special camera key on the right. On the software front the phone runs Android 4.1 Jelly Bean, which is a bit disappointing, but it will probably get updated soon. Xperia UI runs on top of Android, and we've always had mixed feelings about it. If you are using Android for the first time, then its great and easy to use, but coming from stock android, its a very different experience.
The Sony Xperia M zips along all tasks with its dual-core Qualcomm Snapdragon S4 Plus MSM8227 processor and 1GB RAM. The quality of the accessories is great as well. Sony has provided a great mid-ranger and in our initial impressions we feel this could be a true winner. We'll be back with the detailed review including camera, gaming reviews as well as benchmarks of the Sony Xperia M very soon. If you want to ask something specific about the phone just comment on this phone or on the YouTube video.
Unboxing Image Gallery