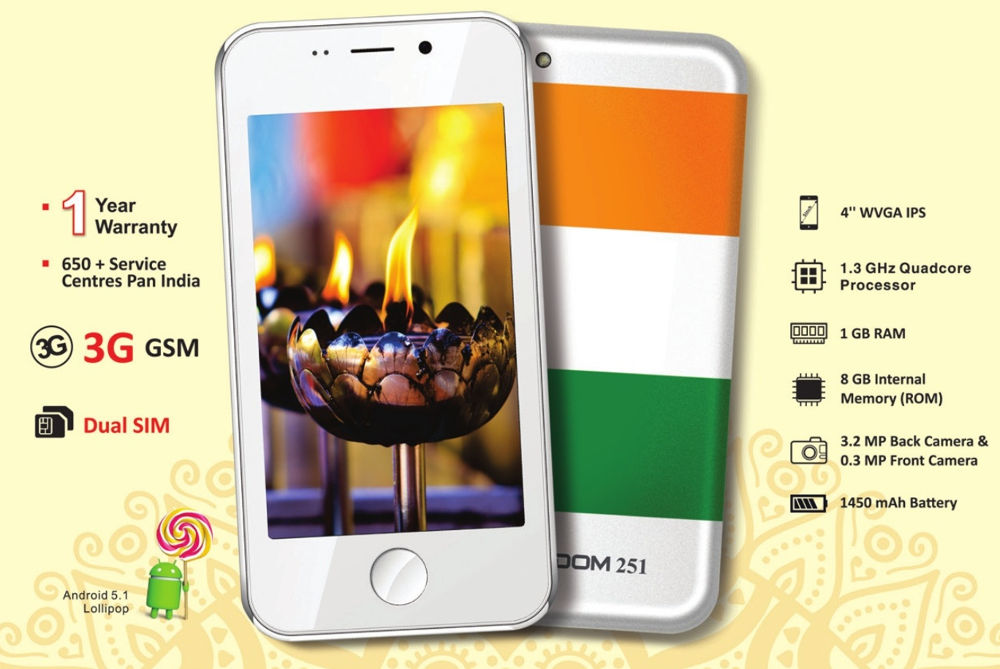 The World's cheapest smartphone, the Freedom 251 is just priced at just Rs. 251. Here are the steps to buy this smartphone. First, you have to go to http://www.freedom251.com and search for booking button on the homepage, rightnow it's not active and the booking will begin from February 18 at 6 AM and closes on February 21 at 8 PM. According to Ringing Bells, the Freedom 251 will be delivered by June 30.
Ringing Bell's Freedom 251 comes with a 4-inch qHD IPS display running on a 1.3GHz quad-core processor with 1GB RAM, 8GB expandable storage, 1-year warranty, 3.2MP/VGA cameras and 1450 mAh battery. Connectivity options include 3G Dual-SIM support, WiFi, Bluetooth, FM Radio as well with Android 5.1 Lollipop running the show.
Update 7/07/2016: Only 5000 units of Freedom 251 will be send to customers, on a lucky draw basis and then the company would wait for funds and feedback. There would possibly be no second batch as Ringing Bells is clearly using this as a marketing strategy without delivering on the actual product. From 2 lakh units, to 10,000 units and now to 5000 units, you see where we are going.
Anyways this is the final retail variant of the Freedom 251 which would be making it to 5000 lucky people.
Hands-on with New Freedom 251 Retail Variant (Cheapest Smartphone)