Lava launched the Iris 406Q to rattle the cages with a Snapdragon 200 quad-core processor with 1 GB RAM running Android 4.3 at an entry-level price of just about Rs. 7000. Although it comes with just a 4-inch WVGA display and a 5 MP Fixed Focus camera, so decidedly entry-level but with mid-range specs. Its a curious device especially given the price, making us think there's definitely somewhere Lava must have skimped on to get here. Let's have a look at its benchmarks to find out, if the Lava Iris 406Q performs as well as it looks on paper.
Benchmark Review
Lava Iris 406Q Specifications
The Iris 406Q comes quite packed with Snapdragon 200 innards, 1 GB RAM and 4 GB storage which is expandable upto 32 GB. You can see the detailed specs here, but lets look at its main specs:
Display: 4-inch WVGA, 480x800 pixels
Processor: 1.2 GHz Quad-core, Snapdragon 200
GPU: Adreno 302
OS: Android 4.3 Jelly Bean, upgradable to Android KitKat
Camera: 5 MP, LED Flash, VGA front-facing
Memory: 1 GB RAM, 4 GB Internal storage expandable upto 32 GB
Connectivity: 3G, WiFi, Bluetooth, FM Radio, Dual-SIM
Battery: 1700 mAh
With these specs and a Rs. 7000 price-tag this phone is literally un-beatable when it comes to specs on paper.
Benchmark Scores
1. Quadrant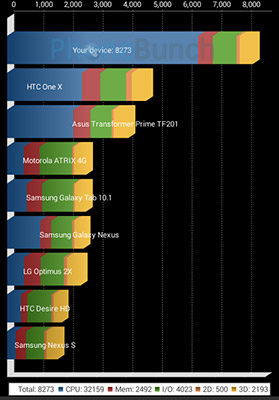 2. AnTuTu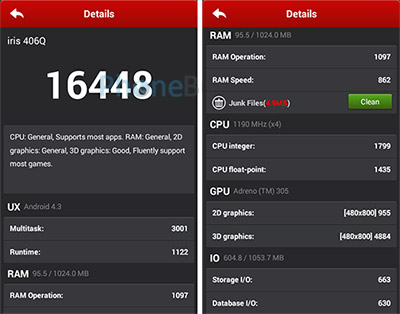 3. Vellamo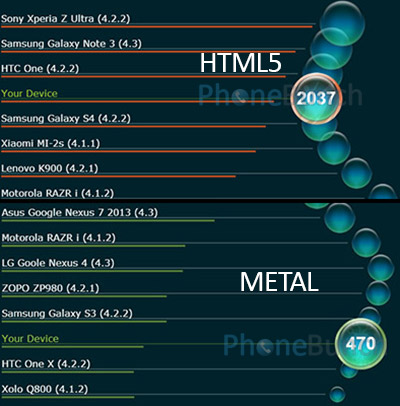 4. NenaMark 2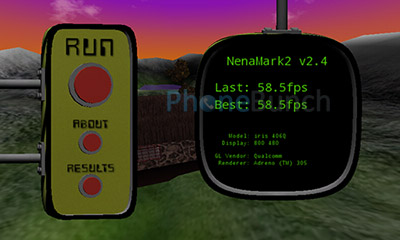 The Competition
1. XOLO A510s
2. Lava Iris 450 Colour
Lava Iris 450 COLOUR Specs and Photos
3. Xperia E1 Dual
Sony Xperia E1 Dual Specs and Photos
4. Moto G (Not exactly competition, but to compare scores)
Motorola Moto G Specs and Photos
Quadrant Score Comparison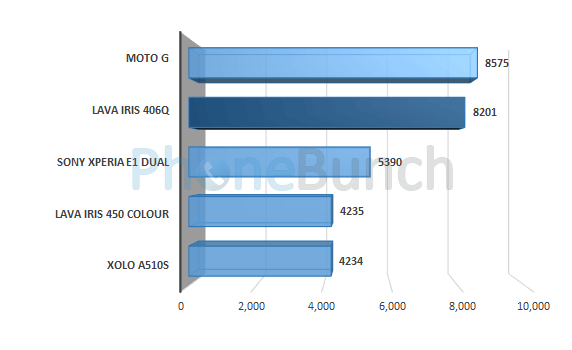 The Iris 406Q scored 8201 which puts the XOLO A510s to shame which gave a score of just 4234, same goes for the Iris 450 Colour and even the Xperia E1 with its score of 5390.
AnTuTu Score Comparison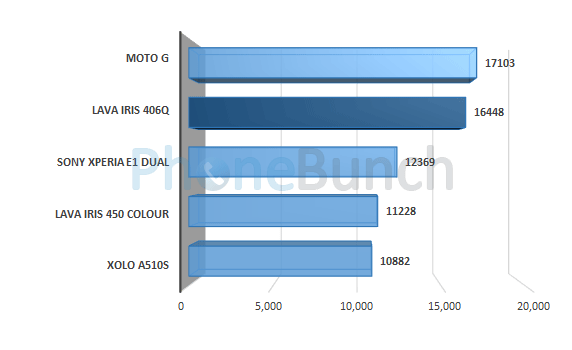 AnTuTu was no different, the Lava Iris 406Q scored a whopping 16448 nearing the XOLO Q1010i and the Moto G in its scores and leaving the rest in the dirt far-far behind.
NenaMark 2 Score Comparison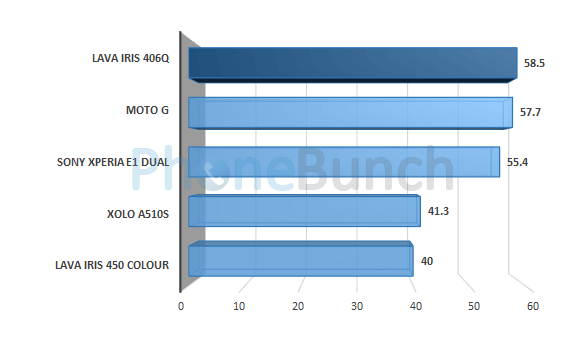 We got a NenaMark 2 score of 58.5 FPS meaning high-end games would be very easily playable on the 406Q which was expected given the Quad-core Snapdragon innards with Adreno 302 GPU which also powers the Xperia E1.
Vellamo HTML5 Score Comparison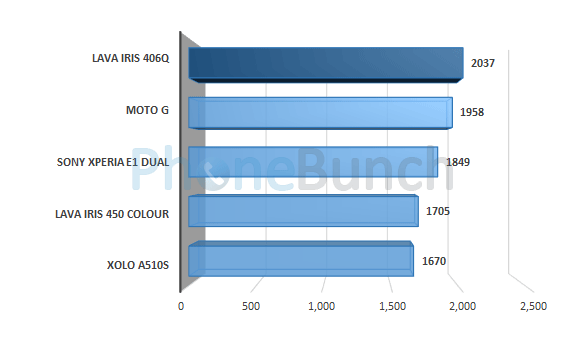 We got a Vellamo HTML 5 score of 2037 besting the likes of the Moto G running Android 4.3 Jelly Bean, there can't be any better praise.
Vellamo Metal Score Comparison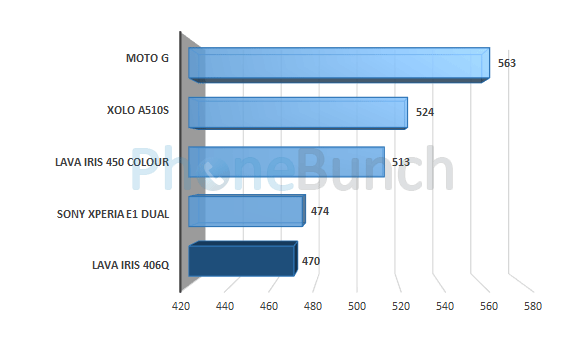 On Metal we got 470 which is a rather modest score, but given the Cortex-A7 Snapdragon 200 these are quite in line with other smartphones in this price segment.
Linpack Single Thread Score Comparison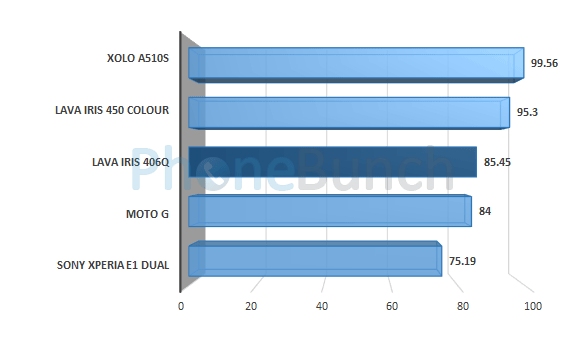 On linpack single-thread we again got a high score of 85.45 which rivals the likes of the XOLO Q1010i or Q2500 which feature the new MediaTek MT6582 chipset.
Linpack Multi Thread Score Comparison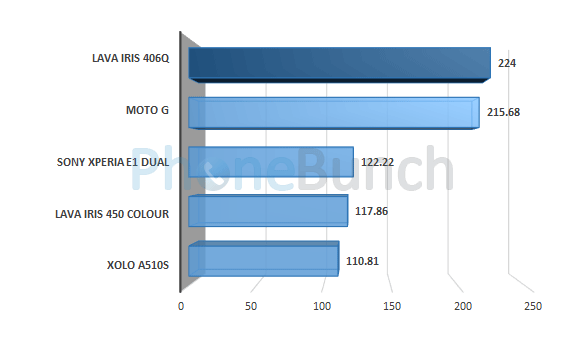 On Multi-thread test to we got 224 which is again quite a high-score in even the mid-range segment.
Multi-touch Test
The 4-inch display on the Iris 406Q might not be much to look at with narrow viewing angles and over-saturated colors, but it has good touch response and supports two points of touch.
Wrap-up
In terms of benchmark scores there's quite literally no beating the Iris 406Q in this segment. It easily rivals phones that cost twice as much in terms of performance scores, and even in day to day use its quite fast. The display is definitely something to worry about since it has extremely acute viewing angles and color reproduction is rather unnatural with everything being a bit over-saturated.
We will definitely check how well it performs at gaming especially considering that excellent NenaMark 2 score, and see how much of a bother that display really is.