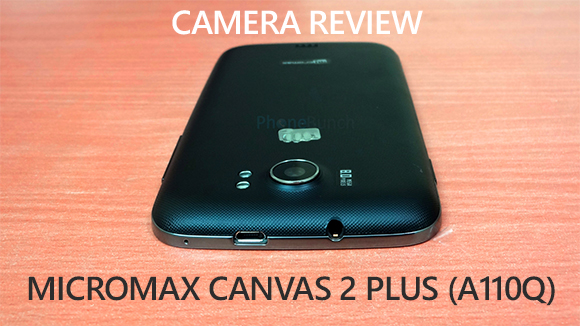 The Canvas 2 Plus has a 8MP camera, which is the same unit found on the Canvas HD A116, although the differences lie mainly in software restrictions put on the Canvas 2 Plus. There is a dual-LED flash on the A110Q as well, about which we'll talk later. The restrictions I was mentioning regarding the camera of the Canvas 2 Plus is that it can only record upto a maximum resolution of 720p (1280 x 720 pixels), at 30 FPS (Frames Per Second). At night though the framerate decreased to 17 FPS, which was odd as all the settings remained same. Keep reading for the in-depth analysis of the camera of the Canvas 2 Plus A110Q.
Camera Interface
There are several features which are new to the camera app of the Canvas 2 Plus, if you have been using stock Android 4.2 Jelly Bean. First up is the navigation pane on the left which allows you to choose the type of image you want to capture. The modes available are:
Normal
HDR
Face Beauty
Panorama
Multi Angle View
Auto Scene Detection
Smile Shot
Best Shot
EV Bracket Shot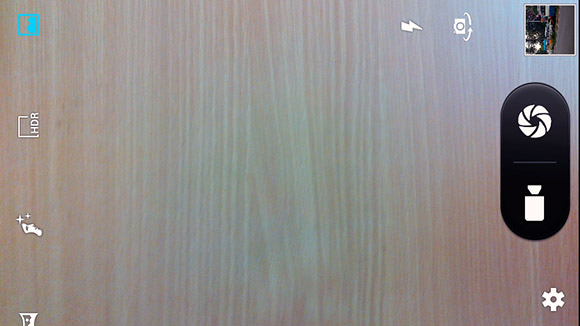 The normal shot as you'd expect has everything set to Auto, but you can tinker with the settings by tapping on the settings icon on the lower right corner of the camera interface. Some settings will be disabled based on the mode you are in. Then there's the shutter and video buttons on the right of the interface which do some weird and interesting things. Before going into that the camera interface does support touch to focus which increases usability of the app, but there is no option to choose Focus mode, its always auto. But one good thing about the camera app of the Canvas 2 Plus is that it knows how to focus in low light by using the integrated flash, which is a good thing.
So getting back to the shutter and video buttons on the camera interface of the Canvas 2 Plus A110Q, lets talk about the video button first, which starts capturing video as soon as you tap it, so there is no switch between image and video mode. It simply starts to shoot video. The camera shutter button in the image mode has an interesting feature, if you keep it pressed it keeps on taking images and will save all of them once you have let go of the button. A nifty feature, which might be useful in a high action or motion scenario and also, camera focuses very quickly as well which is an added advantage.
You can also switch between front and back camera with just a single tap on an icon in the interface, and also turn Flash to auto, on or off.
Camera Settings
The settings of the camera app on the Canvas 2 Plus allow you to control Storage Location, Exposure, change image with some cool filters, various scene modes, white balance as well as manipulate certain image properties like saturation, hue, brightness, sharpness and contrast. You can adjust these settings to get the best picture in good lighting, which it seems is essential for the camera of the Micromax A110Q.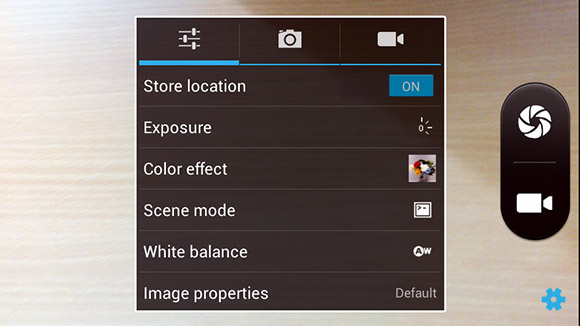 The camera app on the Canvas 2 Plus supports the following scene modes for images Auto, Night, Sunset, Party, Portrait, Landscape, Night Portrait, Theatre, Beach, Snow, Steady Photo, Fireworks, Sports and Candle Light. These modes are not just to be there, some of these do actually work, but its better to leave the setting to auto if you are in a well-lit environment otherwise you'd need to experiment with these modes to get the best picture. The Color Mode filters on the camera app of the Canvas 2 Plus A110Q are pretty basic with options to switch to monochrome, Sepia, Negative, Aqua, Blackboard or Whiteboard. You can switch to post-processing filters which apply on the images in the Gallery app, where you'll find plenty more options.
Continuing with the Camera review of the Canvas 2 Plus lets talk a little about the Gallery app, it has a new feature where it automatically starts showing the previews of video that are present in your gallery, no need to play a video, you just start seeing a short part of it playing when you open the Gallery app. You also have the Android Jelly Bean, Filmstrip and Grid View modes as well. The video previews only work in the Grid View mode in the Gallery app of the Canvas 2 Plus.
Then there are specific image and video settings: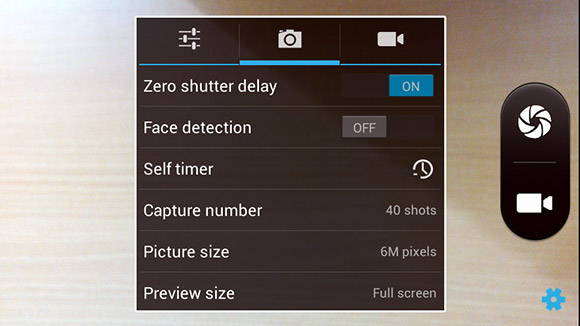 Image Settings
Zero Shutter Delay, Face Detection, Self Timer, Picture Size upto a maximum of 6MP (3328x1872 pixels) if you are snapping 16:9 images or 8MP for 4:3 aspect ratio, viewfinder Preview size (decides whether you want 16:9 or 4:3 aspect ratio), and ISO which you can either leave to Auto or choose between 100, 200, 400, 800, and 1600. I would recommend leaving it to auto and if not keep it on 200 or 400 otherwise you'll get unwanted noise in your images in even moderate lighting.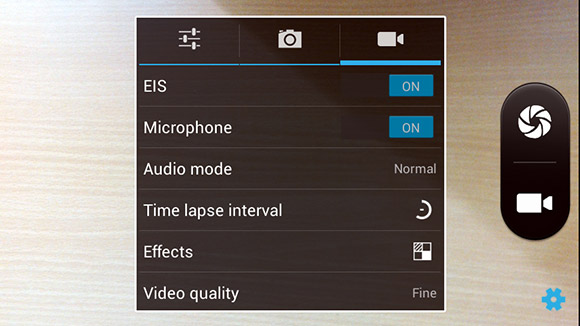 Video Settings
EIS or Electronic Image Stabilization which actually works, toggle to keep the Microphone on or off, Audio mode which makes use of the dual-microphones for noise cancellation, Time Lapse interval for cool looking videos but a tripod or stand would be recommended to use this mode, then there are certain effects which are well, gimmicky. After that you can choose your video quality which should always be kept at Fine, and would record upto a maximum resolution of 720p (1280x720 pixels) at 30 frames per second in 3GP format.
Image Quality
In this section of the camera review of the Micromax A110Q we discuss the image quality, you can see the full resolution images in our Flickr account, just click here.


Outdoors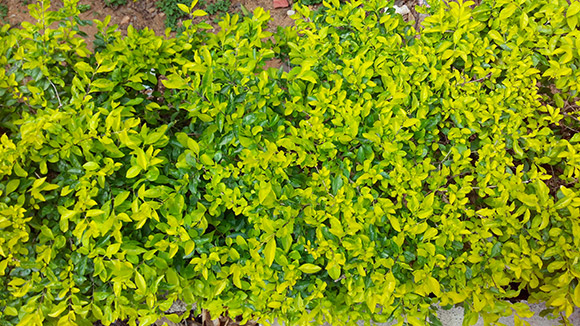 In our camera review of the Canvas 2 Plus A110Q we found that the image quality from the 8MP camera is better than average, to say the least. Although colors seem a bit less saturated, faded even, but sometimes in the perfect light it captures the best looking images possible. You can see the images we've taken with the camera in our Flickr PhotoStream as well.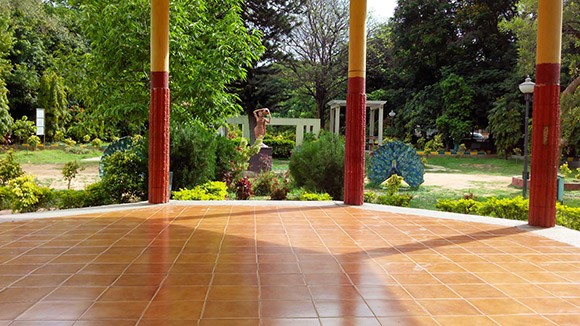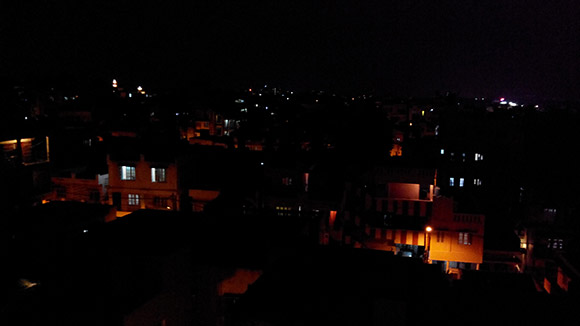 Above is an outdoor shot taken at night with the flash on, as you can see that their is much noise in the image, and the camera does have issues with low-light. Nevertheless, the focusing part always works well.


Indoors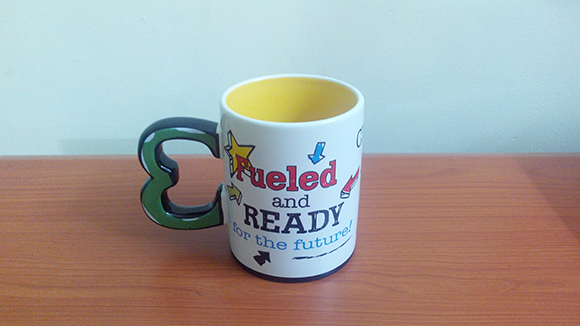 Indoors, it's a completely different scenario, under fluorescent lighting the camera on the Micromax A110Q does not perform that well. It adds unwanted noise, and the color profile too seems to tarnish, with faded colors. Then there's the dual-LED flash which is not that adequate, and lets out a purple flare instead or pure white which again adds to weird issues with low-light imagery. You can check the image below to understand what I mean.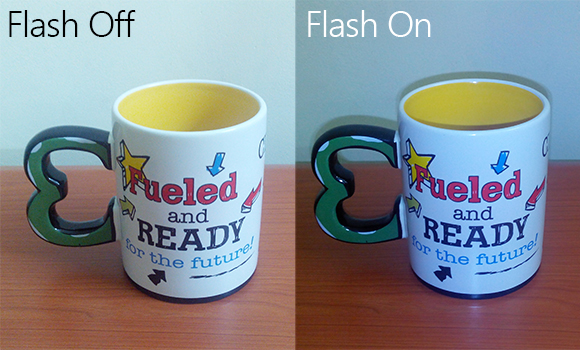 Flash On or Off?
As I said earlier the flash adds a purplish flare and isn't that effective either, but if there is some light, it might prove to be a useful tool, in any case the dual-led flash on the Canvas 2 Plus atleast helps the camera focus in low-light situations.
HDR
Now, this is mostly a gimmick for the Canvas 2 Plus and should be considered as such. HDR stands for High Dynamic Range imaging, which captures a greater range of the dark and light areas of the image being taken. The effects attained by HDR can be post-processed as well, but a camera equipped with HDR would generally capture greater lighting detail of a scene to make it more realistic.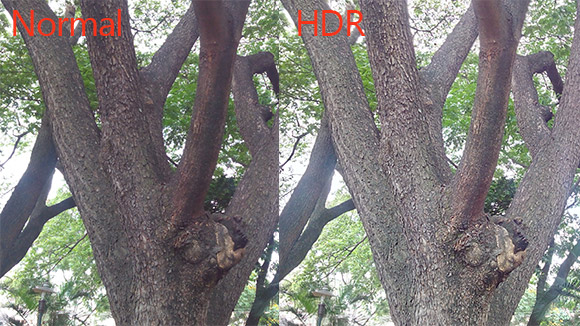 However that does not happen here, the Canvas 2 Plus HDR mode simply makes the images more glossy in appearance by adding more brightness and weird overlays which can be the result of masking two images on top of each other. So, we'd recommend avoiding its usage.
Panorama Mode
The Panorama mode on the Canvas 2 Plus works pretty well, it captures images at a maximum resolution of 4288 x 416 pixels, which is not that great and the final image looks a bit faded out, lacking in colors. There's an onscreen guide which tells which direction to move the camera and updates in real-time, then you can also choose to move the camera either top-bottom or left-right. You can check the captured shot in our Flickr PhotoStream.
Multi Angle View
This mode lets you capture an image with the perception of depth, at about just 60 degrees. It is like photosphere where you could capture a 360 degree shot but here its limited to about just 60 degrees. We cannot show those images here, but its a novelty feature and isn't of much use.
Video Quality
We've included two video tests to check typical usage of the camera, one is outdoors during day time and the other during night. You can get a glimpse of how the camera is going to perform in low-light as well as good lighting situations. But one major gripe I have with the video camera of the Micromax Canvas 2 Plus is that it zooms in when you switch to video mode, and there is no way to change that. It feels weird and the camera app shows that you are not zoomed-in at all. So forget about taking macro shots, everything it seems is in macro focus. It has something to do with the camera app itself, and can be easily fixed with a small update or going back to the default Jelly Bean camera app.
Day Video Sample
As you can see in the video above the quality is not that bad. The video was captured on a cloudy afternoon, at 720p (1280x720 pixels) at 30FPS. Although its not enough to replace my digital camera but if I need to take a memorable shot during day (extremely important) then I won't be heartbroken to have the Canvas 2 Plus on me. But there is definite ghosting
Night Video Sample
The video quality at night, is well, utterly crap. The video was recorded at night at the maximum resolution of 720p at 17 frames per second, the framerate dropped presumably due to low-light. There's a whole lot of noise that you don't want and the camera tries to refocus if you move it even a little bit and its not just because you have EIS (Electronic Image Stabilization) on. It does that even if you have that off, plus there is no way to change the focus settings, so you'll have to leave the camera to keep trying to focus. But the saving grace is that the camera of the Canvas 2 Plus A110Q focuses very quickly and the sound quality recorded from the dual-microphones is more than acceptable.
Conclusion
So this was a very lengthy review, but users who are going to buy the Micromax Canvas 2 Plus do consider the camera, especially since its an 8MP unit. But it suffers from weird software restrictions, which do not make any sense. First of all, I can't record 1080p videos with the 8MP unit when the Canvas HD can do that using the same chipset as the Canvas 2 Plus. Then there's the weird zooming in when we switch to video mode, with no option to change that as if that is what was supposed to happen when you switched to video mode.
Apart from that, the image quality in good lighting is not that bad, the 8MP camera on the Canvas 2 Plus is capable of taking good images in good to moderate lighting. You can see full-resolution images taken with the A110Q's camera in our Flickr PhotoStream. The dual-LED flash is not that effective, but helps the camera focus in low light situations. Automatic settings of the camera app work best, but if you tinker with the scene modes and image modes, you can get the desired effect you want.
Now for our final verdict, we'll give the camera unit of the Canvas 2 Plus a solid 3.8 out of 5 overall in image and video quality as well as general usability of the camera app. This is not a bad number considering that the Canvas 2 Plus is a mid-range device.