The Canvas Doodle 3 uses the familiar MediaTek MT6572 chipset with Mali-400MP GPU and 512 MB RAM. We have seen that with 1 GB RAM this chipset performs worse, which is a bit strange. Nevertheless, the 6-inch display on the Canvas Doodle 3 has a rather low FWVGA resolution which will boost the graphics score a bit. The Canvas Doodle 3 is a phablet and budget lover's dream phone. Its priced at about Rs. 8500, which makes it a good offering in the entry-level segment, but before we conclude on that let's have a look at how the Canvas Doodle 3 A102 performs in our benchmark tests.
Benchmark Review
Micromax Canvas Doodle 3 A102 Hardware Specifications
The Canvas Doodle 3 comes with a humongous 6-inch display which looks alright for the price point, its definitely pixelated but the color reproduction is good enough plus its quite bright. Then you also get a smart flip-cover within the box. Here are the key specifications, detailed specs can be found here.
Display: 6-inch, FWVGA, 480x854 pixels, 163 PPI
Processor: 1.3 GHz Dual-core MediaTek MT6572
GPU: Mali-400MP
OS: Android 4.2.2 Jelly Bean
Primary Camera: 5 MP, Auto-focus, LED Flash
Secondary Camera: VGA Front-facing
Memory: 512 MB RAM, 4 GB internal storage, expandable upto 32 GB using microSD cards
Connectivity: 3G, WiFi b/g/n, Bluetooth 4.0, FM Radio, Dual-SIM (Regular SIM)
Battery: 2500 mAh
The Competition
1. Micromax Canvas Elanza A93
Micromax Canvas Elanza A93 Specs and Photos
2. Micromax Canvas Juice A77
Micromax Canvas Juice A77 Specs and Photos
3. Xperia E1 Dual
Sony Xperia E1 Dual Specs and Photos
Quadrant Score Comparison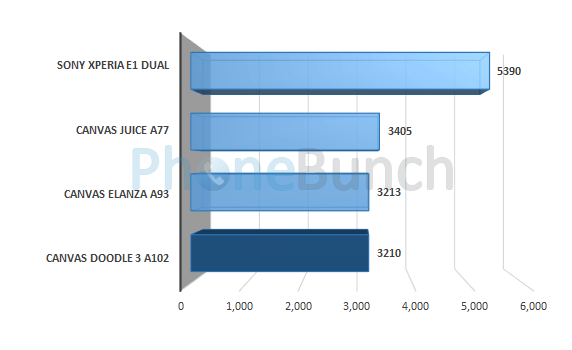 The Canvas Doodle 3 got a score of 3210 which is a bit low, but quite close to the competition.
AnTuTu Score Comparison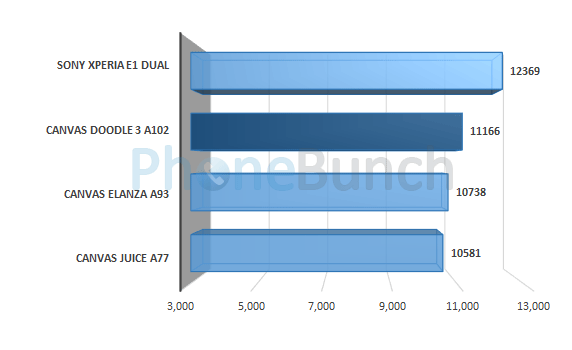 On AnTuTu, the Doodle 3 scored a respectable 11166 which is in-line with other phones in the segment and higher than both Canvas Juice and Canvas Elanza, but lower than the similarly priced Xperia E1 Dual.
NenaMark 2 Score Comparison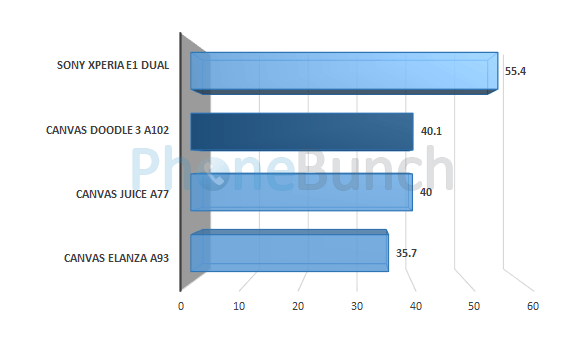 Canvas Doodle 3 A102 scored 40.1 FPS on NenaMark 2, which is similar to other phones using the MT6572 chipset.
Vellamo HTML5 Score Comparison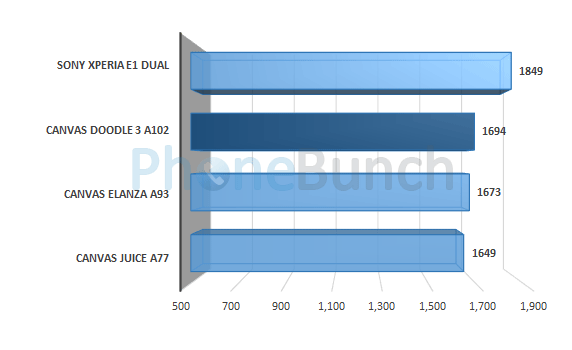 Vellamo HTML5 scores were also predictably similar on the Doodle 3 with a score of 1694, again higher than both the Canvas Elanza A93 and the Canvas Juice A77.
Vellamo Metal Score Comparison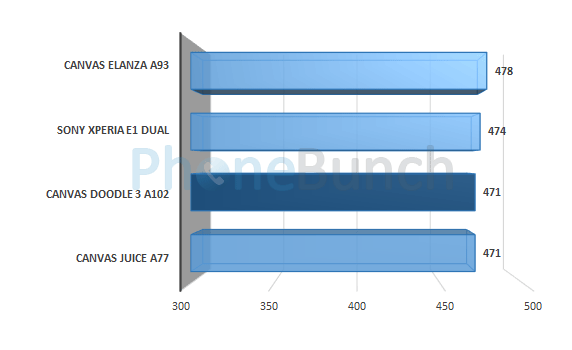 On Metal, the Doodle 3 got 471, a competitive score.
Linpack Single Thread Score Comparison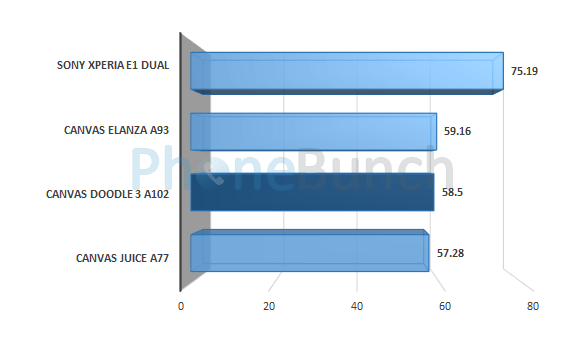 On single-thread Linpack, we got 58.5 FPS which is again similar to other handsets using the same chipset.
Linpack Multi-thread Score Comparison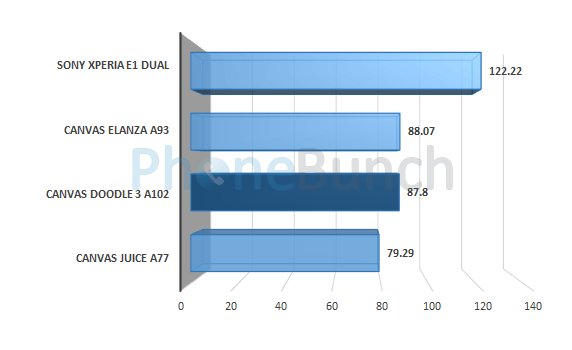 The multi-thread score of 87.8 for the Doodle 3 is also quite competitive but considerably lower than the Xperia E1 Dual. This can be seen in general performance as well, where the Xperia E1 excels.
Multi-touch Test
The Canvas Doodle 3 A102 supports 2-points of touch on its display, which is a bit low considering that Micromax is advertising this as a phone on which you would draw Doodle's to share with your friends.
Conclusion
The Doodle 3 generally performs well, the scores are in line with other MediaTek MT6572 chipset based smartphones. it has excellent build quality and surprisingly the display, even though is a bit pixelated doesn't look half-bad. The horizontal viewing angles are better compared to the vertical.
Next up we check how the Doodle 3 performs at gaming.