Motorola didn't have to do much to promote the Moto E, its selling itself like hot cakes on December morning. Its feature packed with a Snapdragon 200 dual-core processor, 1 GB RAM, 4.3-inch qHD display, Android 4.4.2 KitKat and a solid construction which would be the envy of even several mid-range phones. All this for just Rs. 6999 that too with Build features like Corning Gorilla Glass 3 scratch resistance and water repellent coating for the display. But we still need to check how this chipset performs on the Moto E, so here's our benchmark review alongwith comparison with the competition.
Benchmark Review
Motorola Moto E Dual SIM XT1022 Hardware Specifications
There's a bit of confusion about the specs of the Moto E, so here are the key specifications. You can read about the detailed specs here.
Display

: 4.3-inch, qHD, 540x960 pixels, 256 PPI

Processor

: 1.2 GHz Dual-core Snapdragon MSM8210

GPU

: Adreno 302

OS

: Android 4.4.2 KitKat

Camera

: 5 MP, FWVGA Video Capture

Memory

: 1 GB RAM, 4 GB internal storage (2.2 GB available), expandable upto 32 GB using microSD cards

Connectivity

: 3G, WiFi, Bluetooth, FM Radio, Dual-SIM (MicroSIM)

Battery

: 1980 mAh, Non-removable
For details on what you get inside the box as well as our first impressions, head over to the unboxing.
The Competition
While there is no phone that can go head-to-head with the Moto E in terms of sheer number of features, but we still managed to get the better of the bunch to compare.
1. Xperia E1 Dual
Sony Xperia E1 Dual Specs and Photos
2. Lava Iris 406Q
Lava Iris 406Q Specs and Photos
3. XOLO A510s
Benchmark Scores
1. Quadrant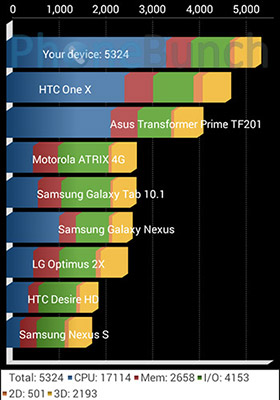 2. AnTuTu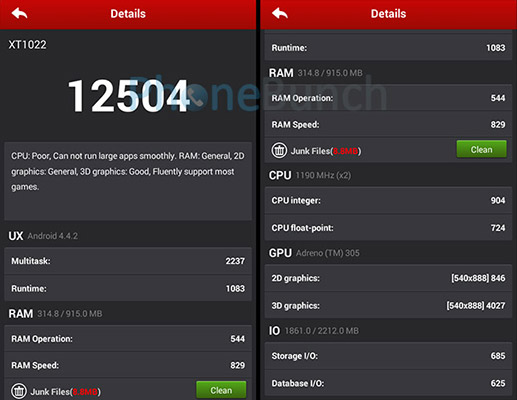 3. Vellamo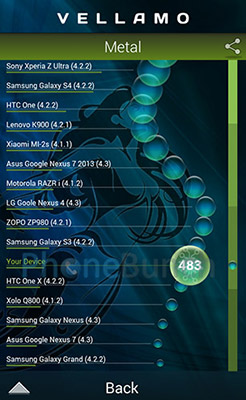 4. NenaMark 2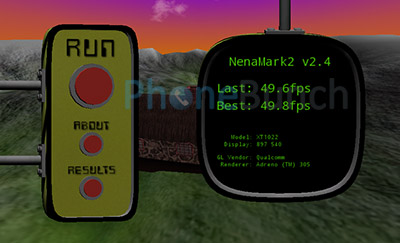 Quadrant Score Comparison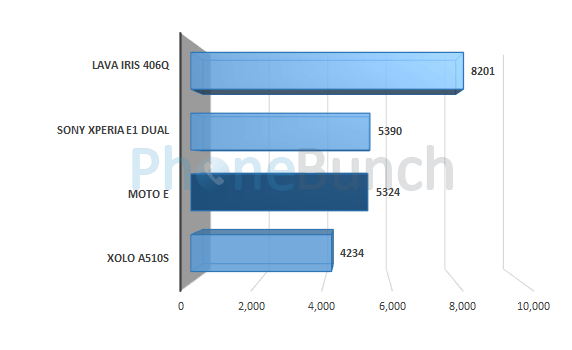 The Moto E scored 5324 on Quadrant which is a great score for a budget device and similar to the score we got with the Xperia E1 Dual which costs a bit more.
AnTuTu Score Comparison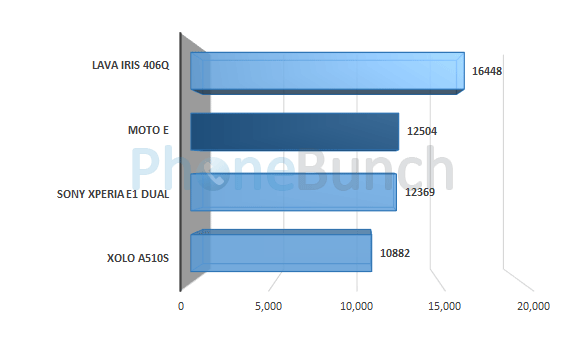 We got 12504 on AnTuTu with the Moto E, which is again a brilliant score beating its MediaTek based rivals easily and lagging behind the quad-core Snapdragon 200 which has found its way into budget phones thanks to the Iris 406Q and the Titanium S1 Plus.
NenaMark 2 Score Comparison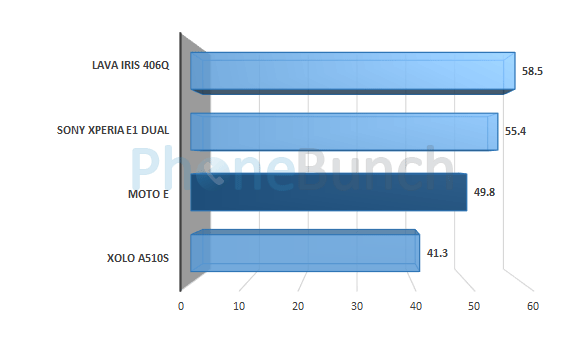 Now, the NenaMark 2 score of 49.8 FPS is a bit low considering the graphics are powered by Adreno 302, but its most likely due to the relatively higher-res qHD display. But we still expect high-end gaming would be possible on the device.
Vellamo HTML5 Score Comparison
Vellamo HTML5 Core is still not optimized for Android KitKat, there we are not going to consider this score for comparison.
Vellamo Metal Score Comparison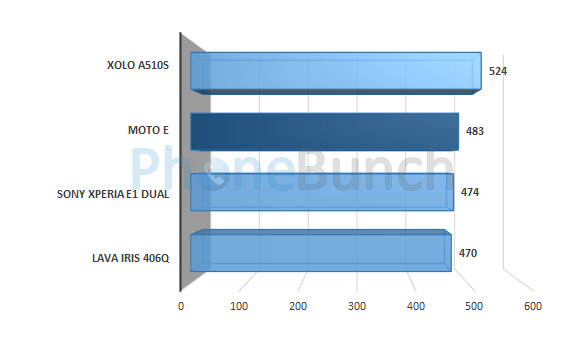 Metal chapter specifically tests the processing capabilities and we got a score of 483 on it, which is better than the Xperia E1 which uses the same chipset with a lower-res WVGA display.
Linpack Single Thread Score Comparison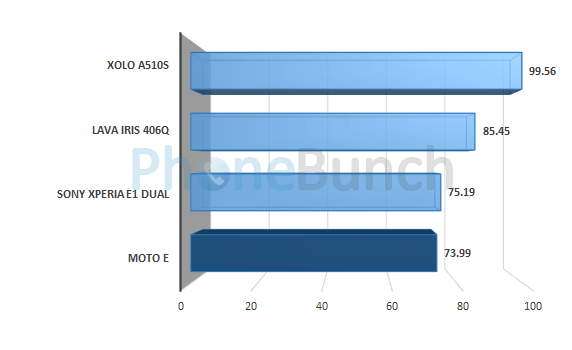 Linpack Single Thread test gave us a score of 73.99 on the Moto E which is in the same space as other Snapdragon 200 MSM8210 based smartphones.
Linpack Multi-Thread Score Comparison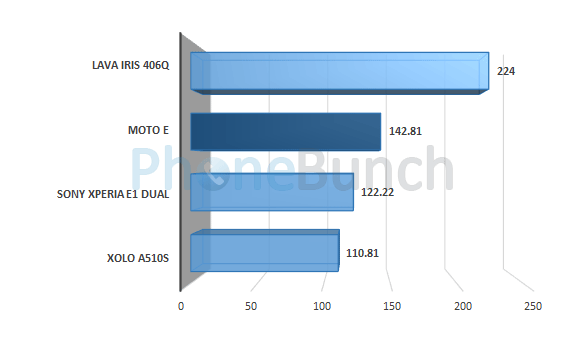 In the multi-thread test we got a score of 142.81 which is a brilliant score for a phone priced so less, meaning multitasking should be effortless especially with 1 GB RAM.
Multi-touch Test
Another surprise was in store with us. The display on the Moto E supports 5 points of touch which is a first in the budget segment among several others introduced with the Moto E.
Conclusion
Moto E came out with flying colors in our performance tests beating each and every MediaTek chipset based phone flooding this segment. With a sharp and vibrant display, 1 GB RAM, Android 4.4.2 KitKat and performance to boot, Motorola may have just made nights sleepless for every mobile manufacturer invested in emergent markets.