Lava Iris 406Q is a promising device in terms of specs as it features a 1.2 GHz quad-core Snapdragon 200 processor, 1 GB RAM running Android 4.3 Jelly Bean. Lava also promised a guaranteed update to Android 4.4.2 KitKat at launch, but it is not yet available. But there are some issues which prevents us from wholeheartedly recommending the Iris 406Q. Lets find out what these issues are in our Full Review of the Lava Iris 406Q.
Pros
Good Performance

Decent Camera

Budget Pricing

Upgradable to Android KitKat
Cons
Bad Display, narrow Viewing angles

Plagued by heating issues

App-data not movable

Bulky, average build quality

Earpiece should have been louder
Hardware Overview
The Lava Iris 406Q is powered by a 1.2 GHz quad-core Snapdragon 200 processor with Adreno 302 GPU, 1 GB RAM running Android 4.3 Jelly Bean. You have a 4-inch WVGA (480x800 Pixels, 233 PPI) display. There's 4 GB of internal storage out of which about 1.5 GB is available to the user. Apps are movable to the SD card but app-data needs to be in the internal storage.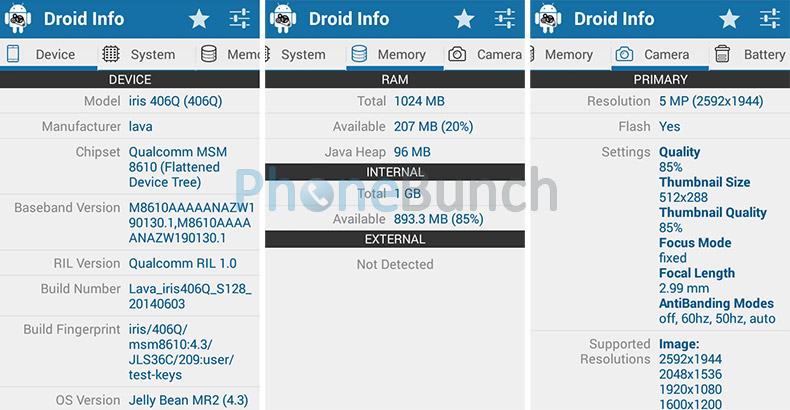 Connectivity options include 3G, WiFi, Bluetooth, FM Radio, GPS as well as dual-SIM support. The Iris 406Q is a dual-SIM, dual-standby device with global roaming on GSM. GPS is able to triangulate location very quickly.
You can check our benchmarks review as well, where the Lava Iris 406Q scored brilliantly. Here are the scores:
AnTuTu: 16448
Quadrant: 8201
NenaMark 2: 58.5
Vellamo HTML5: 2037
Vellamo Metal: 470
You have an accelerometer, proximity and ambient light sensor available on the phone as well. The Ambient light sensor works well, even though if its a bit conservative in operation. You also get a free flip-cover, screen-guard within the box, you can checkout our unboxing for more.
Build Quality
The build of the Iris 406Q has a very plastic feel to it and seems a bit cheap. On the front you have hardened plastic, which houses the 4-inch display, three capacitive buttons just below it which don't light up. The main earpiece which is also the speakerphone, sensors, VGA camera can be found up top. The sides are a bit raised to protect the display from coming in direct contact when placed face down.
Both volume rocker and the power lock/unlock button are on the right, leaving the left blank. The buttons are surprisingly sturdy and offer good travel.
At the top you have microUSB data-syncing/charging port as well as the 3.5 mm audio jack. The microphone can be found at the bottom.
Moving to the back you have a 5 MP fixed-focus camera with LED flash, Iris 406Q and Lava branding. The backcover has a checkerboard design which looks cheap and the glossy finish doesn't help it either. The speakerphone has been integrated with the front earpiece.
There are two full-size SIM card slots inside, a microSD card slot which can take upto 32 GB cards and the battery compartment. The microSD card has one of those sliding mechanisms which I dislike, as they tend to break or get stuck.
Overall build quality is a bit suspect, there is some flex to the backcover and air-gap when its closed. There is a little bit of creaking here and there too.
Display
The biggest let-down on the Iris 406Q is the display, it has atrociously narrow viewing angles and the color reproduction is just way off. Its a regular TN panel but of very poor quality.
Colors look washed out, brightness is uneven and sunlight visibility is also low. There is a Screen Color option in Display Settings which allows you to customize the color profile of the display and it does help a bit. You should set it to Vivid, that is the best combination of saturation, hue and contrast. But the touch response is still good.
Network & Call Quality
You get a new custom smart dialer on the Iris 406Q which can find contacts with the numbers you type. There were no major issues with network or call quality. The earpiece is loud and so is the speakerphone on calls. It doesn't crackle at full volume. Call quality could have been better.
WiFi reception is average and so are the download speeds. You have WiFi hotspot, USB and Bluetooth tethering available on the phone as well, all work fine. GPS is also available and it is able to find location in a matter of seconds when outside.
Camera
There's a 5 MP camera on the Iris 406Q but its comes with a fixed focus lens and a useless LED flash. It uses a new camera UI, but it is quite easy to understand. You do have HDR mode, which is better to shoot with. Panorama, Zero Shutter Delay, Burst mode and Anti-Shake mode are other additions.
You have several scene modes as well, but Auto fares best. There are a few effects too which can be applied to a scene in real-time. The phone takes images quickly, but HDR composition takes a bit of time, all the while you should remember to keep steady.
Distant shots do turn out fine, but everything close-up is blurry, out of focus. Images do turn out to be a bit noisy. Color reproduction is generally good especially in HDR shots but some images do turn out to be over-exposed in direct sunlight. The LED flash is quite useless and low-light imaging is just filled with noise.
Video quality is nothing to write home about either but you can record in 720p at 30 FPS.
Image Samples
Video Sample
Speakerphone
The speakerphone has been integrated with the earpiece, last time we saw this on the LG Optimus One. But its not as loud. It is clear and doesn't crackle but it should have been louder.
The front of the phone is a perfect place for the speakerphone, there is a lot of space used by bezels but Lava just made a mess of it.
Music Playback & Bundled Headset
The bundled headset looks good, has a flat cable and is in-ear style, but it doesn't sound good. It is better to get earbuds from Sony, Sennheiser, Philips or the likes if you are planning to listen to music for long duration on the phone.
Music quality through the speakerphone is just plain, nothing to be excited about and the volume is again low. Although there are no issues with audio playback, you can play high-bitrate music without skipping a beat, fast forward, change tracks. You also get Snapdragon Audio+ engine built-in which gives you a 5 band equalizer. It is customizable and you do get the general presets as well. The headset adds additional functionality, you can tap the call accept/reject button to play/pause tracks and double tap it to move to the next track in the playlist.
FM Radio reception is good, but the UI is terrible. You need to access the menu for every operation. Although you do have stereo playback as well as FM recording. You can switch to the speakerphone too, but the headset needs to be plugged in.
Video Playback
You can play 720p videos natively on the Iris 406Q without any issues. Video playback is smooth without freezing or framedrop.
YouTube plays at 480p or HQ mode only which is restricted by the display resolution. Playback is good without any sync issues.
Software & Apps
The Iris 406Q runs a custom build of Android 4.3 Jelly Bean. There are several changes starting with the launcher which by default has 5 homescreens but you can increase that number upto 9. You can customize animations, wallpapers as well as theme of the phone. Moving to the app-drawer you get the option to sort apps as well which is welcome. You can also change the wallpaper for the app-drawer, hide apps and change scrolling animation. On long tapping the homescreen you get the option to add widgets, change wallpaper or even the theme of the interface.
Lockscreen widgets are also available and a swipe from the right opens the camera. There isn't much customization coming to settings, but you do have a flashlight option available in notification toggles which activates the LED flash at the back.
We tried several apps on the Iris 406Q and there were no compatibility issues. Apps open up quickly as well. For our web-browsing test we used Chrome. We tried several website where although the rendering is fast but pinch-to-zoom and scrolling is a bit laggy. Text and images re-flow quickly. Then the display has very low contrast which makes even black text look grayish.
You get the default Android keyboard installed on the Iris 406Q but it is not the updated version which comes with gesture input.
Gaming
The Adreno 302 GPU can certainly push pixels on the low-res display of the Iris 406Q and we did't have any issues with even high-end games. But the poor display, quiet speakerphone and the fact that app-data is not movable to the SD card don't make for a good gaming experience.
On top of that the Iris 406Q gets a bit hot while playing games continuously, which can be ignored if it happened just in gaming. But it gets hot in general use and while using the came as well.
Performance & Battery Life
Performance is good, there is hardly any lag in the interface but the display makes everything look worse than it is even though it has good touch response.
Battery life is rather good, you can easily get more than a day's worth of mixed usage with the phone. A more conservative use can get you through even two days with the help of Qualcomm Battery Guru which keeps a track of your usage and you can customize it with the options you want enabled/disabled when your phone enters low power mode.
Wrap-up
As I said in the beginning the Lava Iris 406Q was a promising device considering its hardware specs. But what we got in real-life is not worth recommending. The display is the worst we have seen since the Micromax Canvas Elanza A93, it has narrow viewing angles, horrible color reproduction and such low contrast levels that even blacks look grey.
Then the build quality is also not upto par, the camera just about works fine, it gets hot while general use and gaming. To top that the speakerphone is low on volume. Apart from performance, there isn't much going for the Iris 406Q. You would be better off buying any dual-core smartphone like the XOLO A500s or the likes for a better experience.