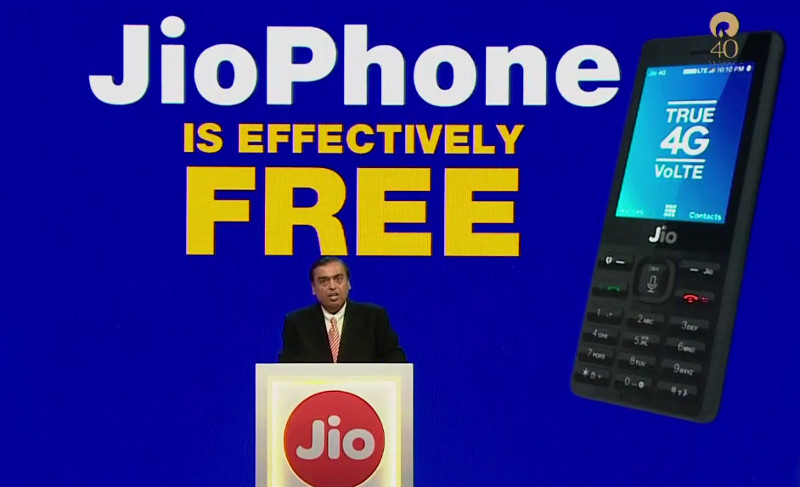 Reliance JioPhone 4G VoLTE feature phone has just been announced by Mukesh Ambani at the company's Annual General Meeting (AGM). The chairman called the JioPhone "India ka smartphone", and for a feature phone it is quite feature loaded including support for mobile payments via NFC.
Reliance JioPhone 4G VoLTE Features
The Reliance JioPhone with 4G VoLTE comes with a 2.4-inch QVGA display and has an alphanumeric keypad. There is a dedicated button for torchlight in the center. There is a headphone jack to listen to music, along with a speakerphone and it supports FM radio as well. You can long press the "5" button on the keypad to call an emergency number and your location data along with GPS information is sent to your emergency contacts as well. At present there is no confirmation if the JioPhone supports WiFi hotspot or not.
It also packs a microSD card slot so that you can add your own tunes and it comes with support for 22 Indian languages onboard. You can use voice commands in any of these languages to call people, reject a call, browse the internet or open apps. There are some pre-loaded Jio apps including Jio Cinema, Jio Music and Jio TV.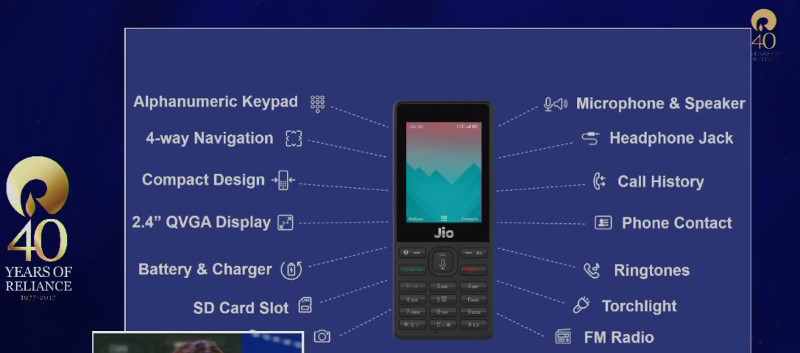 Rounding up the features department, the JioPhone also comes with NFC support for mobile payments, tap-to-pay will be added later with support for UPI, credit and debit cards via a software update.
Reliance JioPhone with 4G VoLTE Availability
The Reliance JioPhone will begin beta testing as early as August 15th 2017, while it will be available to pre-book through the My Jio app, Jio.com and Jio retailers starting August 24th. It will ship beginning in September on a first come first serve basis.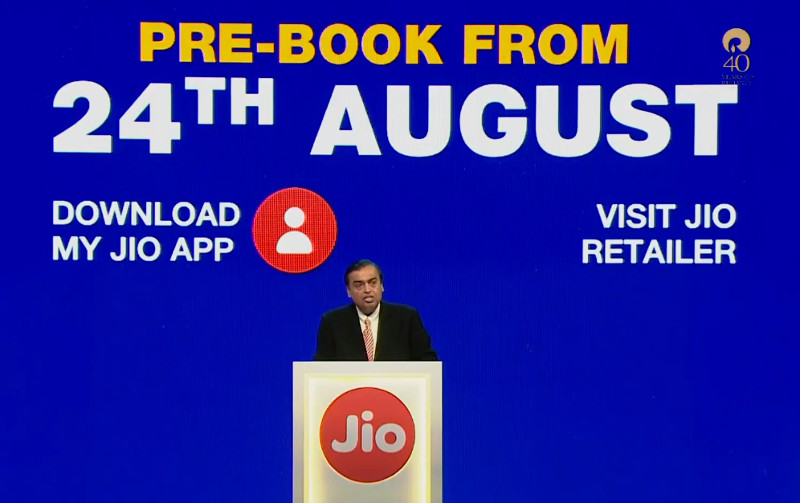 Reliance JioPhone Price and Unlimited Plans
The Reliance JioPhone is essentially free. The company will take a fully-refundable security deposit of Rs. 1500 for the phone, which you can get back after 3 years. Jio has also introduced a new plan, the Dhan Dhana Dhan Rs. 153 unlimited plan for the JioPhone. You will get unlimited voice calls and data without any cap on the 4G VoLTE feature phone. At present its not known whether tethering would be allowed on it.
You will also be able to broadcast using the JioTV app to the big screen in the house at Rs. 309 per month. There are two sachet packs as well, Rs. 24 for 2 days use and Rs. 54 for a week.
The Reliance JioPhone will be Made in India and the company plans to manufacture 5 million units per week to cater to the demand. So what do you guys think abou the JioPhone? Would you pre-book the JioPhone in August? Let us know in the comments section.