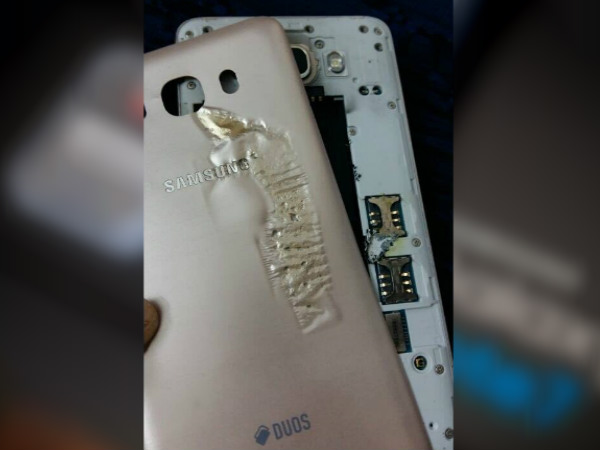 Last year's Galaxy Note 7 fiasco changed everything for Samsung, they built a new 8-point battery safety check to make their phones safer and applied stringent quality checks for their devices. But now it seems Samsung's Galaxy J7 is going the same route and one caught on fire mid-flight on an Indore bound flight in India.
The phone belonged to Delhi resident Arpita Dhall, who was traveling with her 18-month-old son and husband to celebrate Diwali. She had kept the phone in her bag, which was kept under the seat.
After about 15 minutes in flight, Atul Dhall, her husband, heard a small thud and then suddenly fumes started coming from the bag. There were two more smartphones in the bag. The couple called the crew for help who put the phone in water to prevent any major catastrophe. Their other phones were also put in water as a precaution.
The fire extinguishers on the Jet Airways flight did not work.
One point to note here is that the fire extinguishers onboard the flight did not work and therefore the crew had to resort to using water. This was highly dangerous and it also brings into question Jet Airways' commitment to passenger safety.
Even amid the commotion, the crew must be lauded for their quick thinking. Once the fumes were put down, the couple identified the phone as the Galaxy J7. The device was confiscated pending further investigation. The plane landed successfully at its destination with all 120 passengers safe.
Later Samsung India spokesperson added "We are in touch with relevant authorities for more information. At Samsung, customer safety is top priority."
In recent times there have been several battery related issues with phones, including the Apple iPhone 8 Plus which has suffered from swollen batteries which rip open the display from the frame. Even Xiaomi phones have now been banned by Amazon in Italy due to faulty chargers. We will keep you updated as the story develops.
Disclaimer: Image shown above is from a previous incident which also involved a Galaxy J7 which exploded in the hands of a 4-year-old.