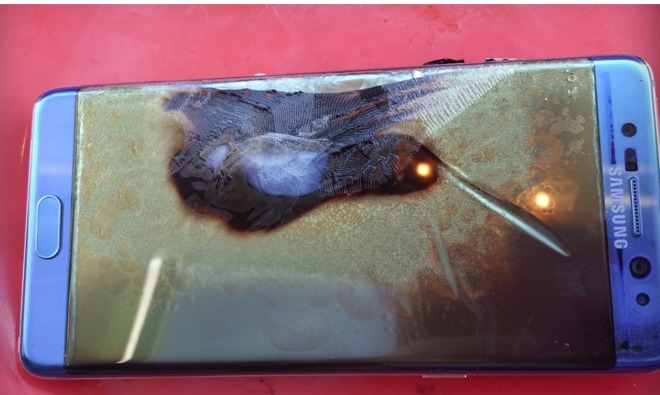 In what seems to be the climax of the exploding Galaxy Note 7 saga, Samsung has recalled the Galaxy Note 7 again. Over the last few days we have seen multiple reports of replacement Note 7 devices catching fire, even when the phone was not being charged. All four major carriers in the US have already stopped selling the device and are now providing an exchange with any other smartphone on their line-up. There will be no replacement Galaxy Note 7 issued anymore.
Although Samsung or even the CPSC aren't calling this an official recall, but it is. Samsung issued a statement earlier today saying:
Because consumers' safety remains our top priority, Samsung will ask all carrier and retail partners globally to stop sales and exchanges of the Galaxy Note7 while the investigation is taking place.
The company is now asking all customers even those with replacement or new "safe" units to power down their smartphones and get a refund or replacement for the Note 7. The original Galaxy Note 7 recall website has also been modified to reflect the new position from the company which says that all Note 7 devices must immediately be returned for another Samsung smartphone or a refund. All without using the word "recall".
Even though a second recall is unprecedented, this hardly comes as a surprise given the events that unfolded in the last couple of days especially when a Southwest place had to be evacuated because a switched off Galaxy Note 7 started spouting smoke. Then another few incidents came to light where unsuspecting adults were subjected to a spontaneously combusting smartphone including a 13 year old girl and then a man who had to go the ER with acute bronchitis caused due to smoke inhalation.
Samsung hasn't really been very forthcoming as to what the issue is, even with its replacement units which were supposed to be safe. Earlier the company blamed it on faulty battery cells manufactured by its own subsidiary, but if seems that's possibly not the only reason. There is some fundamental flaw in design or engineering that is causing the Note 7 to blow up and what's scary is that even Samsung hasn't been able to figure out what that is.
For now, this is what we would recommend doing. If you have purchased a Galaxy Note 7 or have got a replacement unit, you should immediately get a refund or any other device from the store you bought it from. All carriers, retail partners will honor Samsung's call for return. In markets like India, where the Note 7 was not launched, but people got the phone through other countries, at present there is no word as to how to go about returning your phone. You could try reaching out to the store/retailer it was purchased from.
Source: Samsung