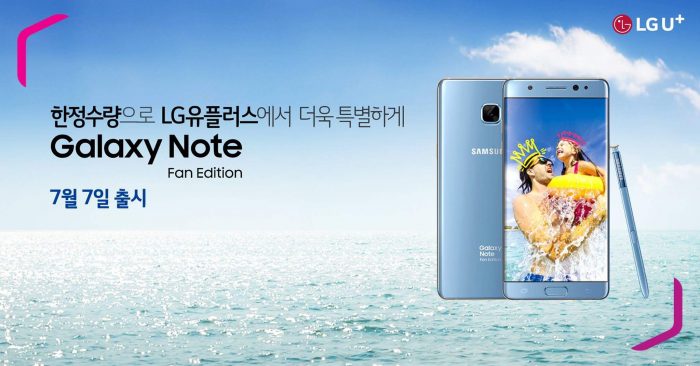 This is the Samsung Galaxy Note FE (Fan Edition), the refurbished Note7 which is launching in Korea on July 7th. The confirmation comes from Korean carrier LG UPlus, which is part of the LG Corporation.
According to the post, the Note Fan Edition is now available for pre-order till July 6th, which sits well in accordance with several posters about the phone that had been spotted earlier.
Getting to the main differences between the Note7 and Note FE, the Fan Edition will have a smaller 3200 mAh battery compared to the 3500 mAh battery on the original Note. The smaller battery and possibly a re-work of the internals will prohibit the batteries from exploding as they did originally.
However, given that the Note FE will be priced close to $600 (Rs. 38000) and the Note8 just about a month away, would anyone buy this phone? The Note line-up from Samsung has a very loyal following. Note7's untimely demise caused quite a lot of heartbreak in the tech community along with the fans. Launching the Fan Edition so close to the launch of a far improved Note8, does seem a bit counterproductive.
Would you buy the Galaxy Note Fan Edition (FE) if it was launched in India? Do let us know in the comments section.