The Karbonn Titanium S1 Plus is an almost carbon copy of the Lava Iris 406Q when it comes to specs. Both feature a 1.2 GHz quad-core Snapdragon 200 processor, 1 GB RAM running Android 4.3 Jelly Bean. Both have the same advantages and similar disadvantages as well. The Titanium S1 Plus however comes with better build. Let's find out more in our Full Review of the Titanium S1 Plus.
Pros
Decent Display

God Performance

Decent Camera, Useless Flash

Price
Cons
Heats-up quickly

Battery-life below average

Speakerphone not loud/crackles

Poor WiFi reception

Lot of bloatwate installed
Hardware Overview
The Titanium S1 Plus too is powered by the Snapdragon 200 quad-core SoC clocked at 1.2 GHz with Adreno 302 GPU, 1 GB RAM running Android 4.3 Jelly Bean. You have a 4-inch WVGA (480x800 Pixels, 233 PPI) display here as well. You have 4 GB of internal storage out of which about 1 GB is available to the user. Apps are movable to the SD card but app-data still needs to be in the internal storage.
3G, WiFi, Bluetooth, FM Radio, GPS as well as dual-SIM support come standard on the Titanium S1 Plus. You get global roaming on GSM, it is a dual-SIM dual-standby device.
In benchmarks the Titanium S1 Plus scored a bit above the Lava Iris 406Q in some tests, you can see the comparison of scores here. Here are the scores:
AnTuTu: 16582
Quadrant: 8306
NenaMark 2: 54.5
Vellamo HTML5: 2004
Vellamo Metal: 474
In terms of sensors you have proximity and light sensors alongwith an accelerometer. Auto-brightness works well. The GPS on the device is able to locate quickly when outside aided by a data connection.
Build Quality
If you consider port locations, overall structure as well as layout of the SIM slots and battery, its surprisingly same as the Iris 406Q. However, the overall build of the device is quite different. It is a bit curved on the sides unlike the Iris 406Q's boxy build. The phone feels slimmer and is easier to hold.
In the front you have a 4-inch WVGA display with the capacitive buttons just below it. The capacitive buttons do not light up, which is what we expected. Then you have the earpiece/speakerphone just above the display alongwith the proximity and light sensors as well as the VGA front-facing camera.
The 3.5 mm audio jack as well as the micro-USB data-syncing/charging port find a place at the top. While the microphone can be found at the bottom part of the front-lip.
The power lock/unlock button as well as the volume rocker are on the right just like the Iris 406Q. Both have a metallic silver finish, which looks cheap and unnecessarily stands out especially when everything else on the phone is black in color. They are comically large and wide for such a small phone. The buttons are a bit clicky, have less than adequate travel.
The back has a matte finish, but it still attracts fingerprints all-the-while making the phone easier to hold. You also get a 5 MP camera at the back alongwith a LED flash and Karbonn branding. On the inside you have two full-size SIM card slots alongwith the microSD card slot which accepts upto 32 GB of storage. The microSD card slot has a sliding mechanism with a lock which might get loose with time.
Overall the build of the device is solid, there is not much creaking or flex. But the backcover juts out a little bit from the bottom and you can feel it and see it as well.
Display
The display on the Titanium S1 Plus is just about okay, but far better than the Iris 406Q. Its a regular TN panel but it has acceptable viewing angles and color reproduction. But color saturation is a bit low making the display look washed out.
There is a little distortion in colors and brightness. Here you don't get the Screen Colors option to customize the color profile as on the Iris 406Q but its not required here. The display is adequate is anything. Plus you need to factor in the price, the Titanium S1 Plus costs a thousand bucks less than the Iris 406Q, bringing it closer to the budget category.
Daydream and auto-brightness are also available.
Network & Call Quality
You get a new custom smart dialer which lists contacts as you type in a name or number. Call quality is generally good and the earpiece is loud enough on calls. But the speakerphone crackles at full volume when you are on call. There is a volume boost available in-call which does help. You also have a built in call-recorder, which can be started with the menu options when you are on call. You also have an auto-retry mode which keeps on redialing till your call goes through.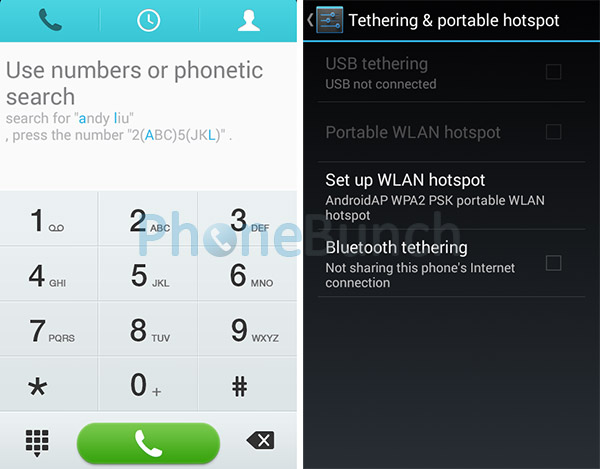 WiFi reception is a bit dodgy, sometimes you get good reception at other times you get 1 signal bar at the same place within a meter of the router. WiFi hotspot, USB and Bluetooth tethering are available on the Titanium S1 Plus as well. GPS is able to find location quickly especially when outside.
Camera
You have a 5 MP camera on the Titanium S1 Plus as well but it has a Fixed-focus lens. it uses the same camera interface found on the Iris 406Q and you have HDR, Panorama, Zero Shutter Delay, Burst mode, Anti-Shake mode available here as well.
Scene modes are also available with real-time effects applied to the view-finder. Images are taken quickly, but on the Titanium S1 Plus images taken in normal mode are better than HDR. HDR images turn out to be dark and gloomy. You can use the Volume rocker as the Shutter or Zoom key. Videos can be recorded in 720p but they too turn out to be a bit blurry but are acceptable in quality when you factor in the price of the phone.
Forget about taking close-up images or macro shots, as they all turn out blurry. Color accuracy is not a strong-suite of this camera.
Image Samples
These are some of the image samples captured with the camera of the Titanium S1 Plus.
Speakerphone
Here too you have the speakerphone integrated with the front earpiece, but this time around its a bit louder but then it crackles at full volume.
Its tinny, a bit muddled and generally just sounds alright.
Music Playback & Bundled Headset
The bundled headset looks cheap but it surprisingly sounds good to listen to music. There is hardly any bass but its clear and loud. The headset jack gives full sound and a good pair of headphones can do wonders.
There are no issues with music playback, high-bitrate content plays well. The headset adds more functionality by single tapping on its button you can play or pause tracks, double tapping plays the next track in the playlist.
FM Radio reception is clear, you also get stereo FM recording and playback. You can play FM Radio through speakerphone as well.
Video Playback
720p videos play well natively, without any framedrop or lag. 1080p videos are playable but are generally laggy.
YouTube playback is smooth as well, there are no sync issues but you are restricted to 480p quality.
Software & Apps
The Android 4.3 ROM used on the Titanium S1 Plus is pretty much same as the Iris 406Q. Here too you have the same launcher with 5 default homescreens which can be increased to 9. Animation and wallpapers can be customized for both the app-drawer and homescreen but there are no themes available here. You can long tap on the homescreens to bring the UI to change wallpapers and widgets. The UI is smooth and there is no lag in the interface.
There is just too much bloatware installed on the phone, you have three browsers pre-installed and many other useless apps which cannot be uninstalled. So they just eat up space and RAM.
You get the Android Keyboard pre-installed on the device, which doesn't come with gesture input. But you can install keyboards from the Play Store.
There are no compatibility issues with the apps we tried. Facebook, WhatsApp all work well. For web-browsing we went with Chrome, while there were no rendering issues, websites did render a bit slowly. Pinch-to-zoom is smooth and so is content re-flow.
Gaming
Adreno 302 is more than capable of playing high-end games in low to medium settings at 480p resolution. But you just have 1 GB internal space on the Titanium S1 Plus. So we weren't able to install the larger games. Still we managed to fit in GT Racing 2, Dead Trigger 2, Frontline Commando: D-day, Riptide GP2, Real Football one by one.
Gameplay was smooth, but the phone does get quite warm while playing games.
Performance & Battery Life
Performance is quite good, there is hardly any lag in the interface. Web-browsing and scrolling is smoother than the Iris 406Q.
Battery life is average, you can't get more than a day's worth with mixed usage. Turning off auto-brightness does help a bit.
Wrap-up
Its clear that the Titanium S1 Plus was launched to compete with the Lava Iris 406Q. By undercutting the Iris 406Q by about a thousand bucks and a strong advertising campaign Karbonn succeeded to an extent. But even after launching the S1 Plus after the Iris 406Q, they did nothing to fix the heating issues of the phone.
The Titanium S1 Plus has good build, a better display, fast performance and a decent camera. But with average battery life and over-heating issues its certainly not a recommendation.