The Micromax Canvas Elanza is a weird entity in this segment, with a dual-core processor, 1 GB RAM and good overall build it seems to tick most checkmarks but there are several shortcomings which make this device quite irrelevant in the grand scheme of things. There's a lot to discuss on the Canvas Elanza in our Full Review mainly about the phone and the direction Micromax is heading with its brand.
Pros
Decent Build Quality

Matte Backcover
Cons
Below Average Performance

Horrible Display

Large

Call Quality Below Average
Hardware Overview
MediaTek's MT6572 has become the norm in this segment, atleast for Indian manufacturers and uptil now we were quite happy with its performance. But the Micromax Canvas Elanza provides a new low for this chipset, the interface is laggy and gameplay stutters. Although it has the same 1.3 GHz dual-core processor albeit with 1 GB RAM powering a 5-inch qHD display running Android 4.2 Jelly Bean, as some of the other offerings in this segment. The horrible display which has such high contrast levels makes this one of the worst phone's we have seen in a long time, even lower price models fare far better.
Coming back to specs, there's a 5 MP camera at the back with a single LED flash alongwith a VGA front-facing shooter. there are three sensors on the phone:
Accelerometer

Proximity Sensor

Ambient Light Sensor
You also have GPS on the Canvas Elanza which works well most of the time. Its a dual-SIM dual standby device which uses regular SIM cards so that's a bonus. There's 4 GB of internal storage, of which about 2.5 GB is available to the user. Luckily apps are movable to the SD card and if you thought that the Mali 400 GPU coupled with 1 GB RAM would make playing games a breeze on the Canvas Elanza A93, you would be wrong. Gaming performance is ridiculously bad, every game stutters, even low-end games like Subway Surfers and Temple Run refuse to work properly. Framerates in high-end games are way below desired with visible lag and delay. Then, its a moot point but nevertheless important that the Canvas Elanza does not support USB OTG, as it is not supported by the MT6572 chipset.
Build
Coming to the design of the Elanza A93, its not remarkable but neither is it a black slab of plastic. The backcover and front-frame are made of matte black plastic which have a good rubberized feel to them.
There's silver faux-metal trim at the top and the bottom which continues a little bit on wither side as well but does not completely cover the sides. Its a good design element, but that's just about it. The Canvas Elanza is larger than any other 5-inch device we have seen of late in terms of height, making it quite a difficult task to operate in one hand. Although the rounded corners and sides, do a good job of hiding the sheer size of the device, its still humongous.
Coming to the left side you have a surprisingly springy volume rocker and the power button on the right. Both the hardware buttons offer adequate feedback and travel without any clicking noises.
At the top there's the 3.5 mm audio jack and the micro USB port finds a place at the bottom of the phone. There's a single microphone which is present in the front.
Talking about the front, you have a 5-inch qHD, 960 x 540 pixels display alongwith three capacitive buttons just below it. The buttons do light up and there's no light bleed. Same cannot be said about the display which bleeds a bit on the sides. We will talk more about the display in its section. There's a VGA camera in the front alongwith the light sensor, proximity sensor as well as the main earpiece just above the display. Everything is kept in place with a plastic front-panel.
At the back you will find the 5 MP camera alongwith the single LED flash, Micromax logo and the speakerphone. The plastic grill for the speakerphone is raised slightly. The back has a matte finish which makes gripping the device easier, which is required for such a large phone. In terms of overall size it is comparable to the Canvas Juice and if you are comfortable with that, then you can ignore this point. The backcover does have a little give, but doesn't bed or flex that easily. There's little to no creaking from the chassis and the backcover is relatively easy to open and put back in.
Network and Call Quality
Network retention is better than average. 2G and 3G download speeds are adequate and depend more on network coverage than anything else. We didn't have any network issues with the Canvas Elanza even with both SIM card on. Battery performance however took a little hit with two SIM cards.
Call quality is sub-par, the earpiece sounds a bit muffled when you are talking. The speakerphone does tend to crackle on calls as well, so its a double hit in this respect. However, calls through the supplied headset sound fine. So, its more an issue with the audio quality of the earpiece than the underlying hardware.
Display
Its horrible, just plain horrible. The worst we have seen in this as well as lower price point. The contrast is so blown-up that everything on the phone looks way more saturated and darker than it should. Colors are inaccurate and as far away from natural as they can be. Due to the high contrast levels even the brightness seems inadequate and hence sunlight visibility is quite low too.
Although there is no visible ghosting, but the 5-inch qHD panel on the Canvas Elanza is a real disappointment. Fonts seem a bit pixelated as well. Viewing angles are decent keeping both color and brightness distortion in check. But these don't make up for the sheer lack in quality. Its simply a sub-par display with an even horrible color profile. If the color profile is tweaked a bit we might get better quality.
Camera
The Camera on the Canvas Elanza is just about average, you can expect decent image quality in good lighting but things turn south as soon as soon as it gets darker. Noise creeps in low-light shots although the flash does help a bit. Video is generally grainy although theoretically the phone is capable of recording 720p HD videos at 30 FPS. In practice the framerate is always a bit lower but still remains in the acceptable range.
The LED flash is bright enough to be used for moderate lighting conditions to take decent shots or used as a torch. The camera interface is unremarkable and absolutely same as any other MTK device out there. You have the option to take panorama shots, HDR as well as smile shot alongwith settings to change picture size, quality as well as video size and quality. Rest of the settings shouldn't be played with but you can manually set scene modes which in very few cases can work better than the auto mode.
Audio quality recorded through the microphone is crisp however since there is no noise cancellation you would notice wind noise in your videos taken outdoor.
Camera Samples
These are some of the images taken with the 5 MP camera of the Micromax Canvas Elanza, for full resolution images visit our Google+ page.
Music and Bundled Headset
Music playback is good on the Canvas Elanza, there is no distortion and the speakerphone sounds good. Its not that loud, sounds alright but does crackle at full volume. There are no issues with high bitrate music playback.
FM Radio also works fine, it requires a headset but the reception is clear and the interface is quite usable. We didn't have any issues with FM Reception even while moving through the city.
Video Playback
720p videos play fine on the Canvas Elanza but as son as you through in a 1080p video, it begins to stutter. This was not the case with the Micromax Canvas Juice A77, which was able to play 1080p videos quite smoothly. Its not a major issue, but the display makes the experience of watching videos bad as well. Its just so over-saturated, so dark, just so off-putting that you neither like to watch videos nor play videos on the phone. Especially if its a dark scene, good luck distinguishing between a person and a wall.
Software
The Canvas Elanza A93 runs almost stock Android 4.2.2 Jelly Bean, there aren't any surprises here. Everything is stock including launcher and app drawer.
You do get Daydream in Display settings, WiFi, Bluetooth and USB tethering are also support. Apps are movable to the SD card and USB OTG is not supported.
The keyboard, messaging as well as camera apps are the same as the ones you get on other MediaTek chipset based handsets. One thing I couldn't wrap my brain around is use of that ugly "BT" icon for bluetooth, as if that really requires an acronym rather than the stylized symbol which everyone is pretty familiar with now.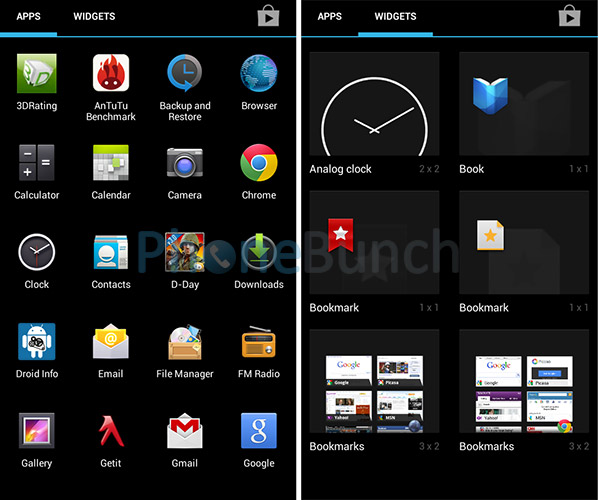 Not many apps come pre-installed, just the basic Google Apps and almost no bloatware. Web Browsing is smoother than the Canvas A77, but its just bordering on being fine. The touch response is just adequate but the bad display makes text look pixelated which is not appreciated at all. Reading text is a pain on such a high-contrast display. Everything looks sharper than it should be and without it needing to be.
Security
You do get the added option of using Voice and Face Unlock in Security settings, which are fairly usable and fallback to a Pin or password set by you.
The usual options of Pattern, Pin or Password are still available. You can even encrypt your device and also use Android Device Manager to ring, erase or locate your lost device.
Performance & Battery-life
Micromax Canvas Elanza A93 doesn't perform that well, the UI stutters some times but app launch times are relatively average. If we coming to gaming, its downright abysmal, everything looks bad and stutters.
You can get more than a day's worth of usage with the battery of the Canvas Elanza A93. But more often than not you would be charging it overnight especially if you somehow decide you want to play games on the phone.
Conclusion
The Canvas Elanza looks good with its matte black surfaces and silver accents. But the good ends there. Its a terrible performer, has a horrible display - the worst we have ever seen on a phone from this decade and then there's the bad accessories, crackling speakerphone, muffled earpiece and the list goes on.
In short, you should not buy the Canvas Elanza A93 even if you have a gun to your head. Therefore, we are going with a score of 4.3 out of 10 for the Micromax Canvas Elanza A93 just for the acceptable build quality and almost decent camera.