The XOLO Q1010i comes in just at the right time, when Moto G's brilliance has begun to dominate the segment. It comes packed with a 8 MP camera with 5-element lens and uses Sony's Exmor R sensor. But that's just the gist of it all, there's a a fast quad-core processor with 1 GB RAM, 8 GB internal storage and a vibrant 5-inch HD IPS display with One Glass Solution protected by Asahi scratch resistant glass. All this comes in a svelte stylish matte black package with silver trim on the sides. So, what's not to like about the Q1010i ? It the XOLO Q1010i the best phone you can get around Rs. 12000? Is the Moto G still better with its 5 MP camera? We are going to answer all these questions and more in the Full Review of the XOLO Q1010i.
Pros
Great Camera

Vibrant, Sharp Display

Excellent Build Quality

Brilliant Performance, Gaming

Upgradable to Android KitKat

Several Free Accessories
Cons
Earpiece could've been louder

Capacitive buttons have weak backlight
Hardware Overview
The XOLO Q1010i comes packed with a 1.3 GHz quad-core MediaTek MT6582 processor, 5-inch HD IPS OGS (One Glass Solution) display alongwith a 1 GB RAM, 8 GB ROM running Android 4.2.2 Jelly Bean which is upgradable to Android KitKat. You get 1.97 GB as internal storage and 4.39 GB as phone storage making it a total of 6.36 GB that's available to you right out of the box. You can add upto 32 GB more storage with a microSD card.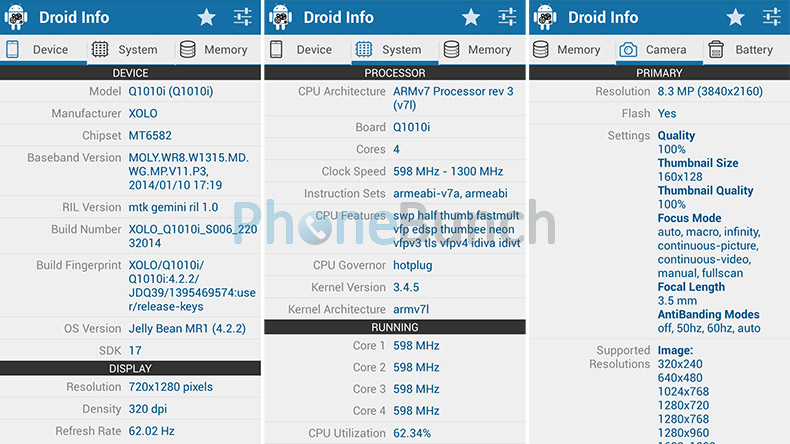 XOLO Q1010i is a dual-SIM device and comes with global roaming on GSM. There's WiFi, BlueTooth and GPS with aGPS support in the connectivity department as well. USB OTG is also supported on the device. There's a 2250 mAh Li-Po battery which is non-removable.
Proximity Sensor, Light Sensor and Accelerometer are also present on the device and work quite well. Auto brightness is a bit conservative which is not necessarily a bad thing.
You get a lot of things inside the box including a flip-cover, screen guard as well as a USB OTG cable. You can take a look at our unboxing for more on that.
Build Quality
You have a 5-inch 720p IPS display up-front which is covered in scratch resistant glass and One Glass Solution (OGS) technology. You also have 3 capacitive buttons at the bottom of the display which do light up but have a very weak backlight. There's a 2 MP front-facing camera, proximity and light sensors up top alongwith a notification LED in between. You also have the main earpiece there. There's a thin strip of matte plastic just below the capacitive buttons which although doesn't serve any purpose does give the phone a more rounded look which would otherwise look like a black glass slab. The sides of the front panel have a lip to protect the display from coming in contact when placed on a flat surface. The earpiece too is black in color melding very well into the overall aesthetic of the phone.
On the left you have a very sturdy volume rocker in the same metallic shade as the side trim which is again very glossy. On the right you have an equally sturdy power lock/unlock key which offers good feedback. I was on the fence about the volume rocker being on the left, but its actually quite reachable even during one handed use. The Q1010i is a very thin device measuring in at about 8.3 mm.
Coming to the back, at the top you will find the glossy side trim entering the back to lay over the 8 MP camera with Sony Exmor R Sensor, a secondary noise-cancellation microphone and the LED Flash. There's the XOLO branding in the middle. While at the bottom you will find the speakerphone which is a bit offset to the left.
If we speak about the build of the backcover, its definitely a bit flimsy. It bends really easily but when on the phone its absolutely solid. But that's more to do with the construction of the phone which comes with a non-removable Li-Po 2250 mAh battery leading to the overall rigidity of the build. On opening the backcover, you will see a very well laid out interior with no moving parts.
On the left there are two microSIM card slots while on the right you have place for the microSD card slot which can take upto 32 GB of storage. Then you have the non-removable battery just below it which is covered under a strip of metal. There is no creaking, no noisy keys, no hollow spots, air gaps or anything remotely annoying about the build of the device.
Display
So you have that 5-inch HD IPS display in the front. It is protected by Asahi Scratch resistant glass which is a bit reflective not unlike Gorilla Glass and offers protection from minor damage as well as scratch resistance. The display also uses One Glass Solution tech for better touch response and contrast. It has deep blacks and saturation levels are at just the right amount. The color profile of the display is quite accurate. It supports 5 points of touch.
There is no visible distortion in color or brightness when the device is tilted meaning excellent viewing angles. While gaming too there was no ghosting or freezing, the touch response too remained excellent throughout our review period.
Moreover the display also has a Glove mode which can be triggered from the Notification drawer, to increase the touch-sensitivity of the display and allow it to be used with Gloves on. It really does work, which we also demonstrated in our Features and Accessories overview.
Network & Call Quality
The XOLO Q1010i didn't have any issues with dual-SIM connectivity on two different networks. Call quality is good where noise cancellation also works, but the earpiece volume is a bit low. The speakerphone on the other hand is quite loud and calls routed through it sound clear without any crackling.
WiFi reception is good, GPS is able to located within a few seconds and Bluetooth works fine as well. You also have USB, WiFi and Bluetooth tethering available on the device.
Camera
Now, the 8 MP camera is the hero feature of the Q1010i. It uses a Sony Exmor R sensor with a 5-element lens, f/2.0 aperture and 1.4µm pixel size. What that means is that the camera is able to capture more light, making good light shots way better and low light images possible.
Coming to the first topic, in good lighting the images taken are sharp and vivid in color, with no phone camera in this price bracket coming even close to what we got with the Q1010i. Macro shots look crisp, colors are accurate and the flash actually helps when taking images in low-light. But the images taken in low-light have quite a bit of noise. We have a separate Camera Review, we also did a comparison with the Q2500, have a look at the video below.
All images taken with the Q1010i have a bit of an over-processed look to them especially when you zoom to 100%, but I am not complaining. Its better to have a sharper, re-touched image than the muddled mess we get from other offerings in the segment. HDR actually works, Zero Shutter delay should be avoided and you can record crisp 1080p videos at 30FPS with the rear camera. You do have EIS or Electronic Image Stabilization, the digital counterpart to OIS (Optical Image Stabilization), but it doesn't work well. You get better videos with it off, once switched on it actually makes the video jerky. The front camera is able to take decent but noisy shots and can record upto VGA resolution only although its 2 MP in resolution.
The interface is similar to any other MediaTek chipset based device, on the left you have several modes including panorama, HDR, best shot, smile shot and EV Bracket mode. In settings you can control image properties like brightness, hue, saturation as well as assign a scene mode or color effect to what you are capturing. Video settings are a bit limited but do allow you to set resolution or quality which should be kept at Fine.
Image Samples
Here are some of the image samples taken with the 8 MP camera of the XOLO Q1010i at full-resolution, 4:3 aspect ratio. You can see the full-res images at our Google+ page.
Video Samples
We took two video samples with the XOLO Q1010i one with Electronic Image Stabilization on and the other off. Have a look at both.
Speakerphone
The speakerphone is quite loud and is clear as well. There's an equalizer available as well which affects music playback, you should customize it based on your preference.
It doesn't crackle at full volume even when you are on a call.
Music Playback
There are no audio issues with the Q1010i, music playback is good. The included headset is surprisingly good for listening to music, however its a bit bass heavy and mids are a bit muddled. But for the general user, this is actually a rather good headset even for listening to music.
The default music player is rather useless, so we switched to Play Music app. Assuming we all are already familiar with the interface there isn't much to talk about the player per-se. Audio quality through the 3.5 mm audio jack is good, there is no distortion. A good pair of headsets will definitely elevate listening pleasure. The speakerphone too is quite loud which adds to the experience, its clear with little to no bass.
FM Radio works good as well, the reception is clear and you can record FM as well. The recording are in Stereo just like the playback, you can also switch to the speakerphone and you do need the headset to be plugged in.
Video Playback
1080p Video playback is flawless, the display looks great and there is no ghosting or freezing with high-profile/high-framerate video playback. Streaming video through YouTube is a bit laggy, but that's due to incompatibility with the updated app. We switched to a 3rd party video app for playing YouTube videos and found that even 720p videos run smooth without a hint of lag. So we will scratch this as a compatibility issue and not consider it as a flaw at this point.
Software and Apps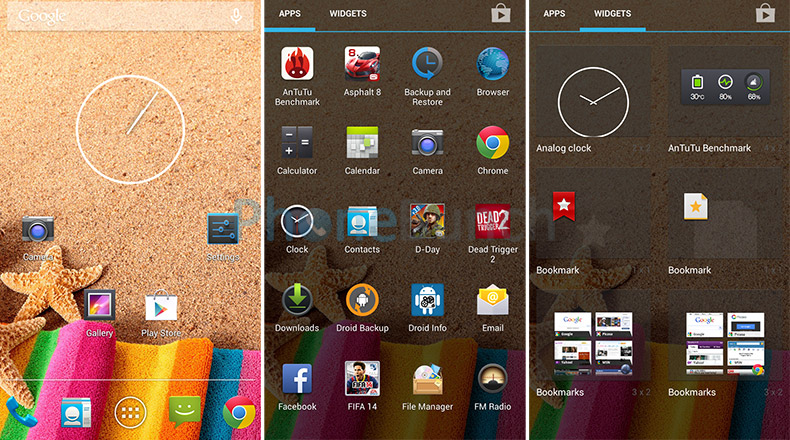 Although the XOLO Q1010i runs an almost stock OS, there are a few changes here and there which definitely add something extra. It runs Android 4.2.2 Jelly Bean with a promised Android KitKat update. You have two additional options in the notification shade, Gesture and Glove mode. We have already talked about the latter.
Now let's talk about the Gesture mode, it enables you to start apps even when its in sleep mode. There are only three options at the present time and they are not customizable. You can draw "e" to open the browser (only opens pre-installed browser), "c" for the dialer and "m" to open the camera.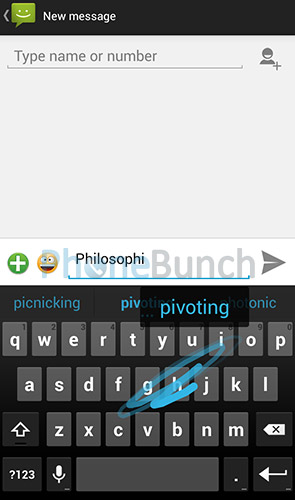 You get the new AOSP keyboard with Swipe functionality for gesture input. Unlike the Q2500 the XOLO Q1010i's notification LED is open to all apps. Lockscreen widgets and notifications are also enabled.
In terms of additional features, you get an APK installer which lets you sideload apps easily. In practice though it doesn't work all the time, sometimes it just doesn't list the APK files stored in your SD card. You can also choose a preferred install location for apps.
In security options you do get the customary Face and Voice unlock which work fine. Then there's the App permissions options which allows you to grand, deny or ask everytime an app tries to access any hardware feature of your device like making calls, sending an sms, access the network, the camera or any other. Its a very neat feature and definitely usable. But there's a disclaimer there, some apps might not work well or even crash if you prohibit them from using certain permissions.
There is no bloatware on the device, its as close to stock as you can get without actually being. There's the basic Google apps that come pre-installed as well as XOLO Power and XOLO Secure which are definitely worthy add-ons. The interface is fluid and there is no lag anywhere.
We used Chrome to test web browsing and we found the rendering to be quick. Text too re-flows fast even if you have a very large webpage, pinch to zoom works well as the touch response from the display is excellent. There is no lag with even 10-20 chrome tabs open, but that's more about performance. Text and images look sharp on the 720p display. There is no lag or ghosting while scrolling.
Performance & Battery-life
The XOLO Q1010i has excellent performance. There is no lag in the interface and it came on top in our benchmark reviews. Sure the Moto G seems a bit more fluid, but that's more to do with Android KitKat. We expect that the Q1010i would perform as well too when it gets the KitKat update, there are a lot of performance improvements there.
Battery-life is good and you get about a day's worth of usage on a busy day but with moderate usage you can get one and a half day's worth. Gaming definitely takes a lot out of the battery life, but that's true for any modern smartphone. It lags a bit behind in this respect from the Moto G as well.
Gaming
We played several high-end games on the Q1010i including Asphalt 8, FIFA 14, Modern Combat 4, NOVA 3, Real Racing 3, Need For Speed: Most Wanted, Dead Trigger 2, Frontline Commando: D-day, Subway Surfers and several others.
Gameplay is superb on the XOLO Q1010i, there is no lag, the phone doesn't heat up and framerates are consistent. Its actually quite a capable phone at gaming.
Wrap-up
The XOLO Q1010i is one of the better phones you can get in this segment, it has excellent built quality, vibrant display which is sharp and bright with great touch response. Then there's the 8 MP shooter which is quite literally the star of the show. It takes great shots outdoors and indoors in good light, no other phone's camera comes close in this segment.
If you just want to find a fault with the device, then there's the earpiece which should have been louder and clearer. The capacitive buttons should have had better backlight and the backcover should have been more rigid. But even then the Q1010i is overall a good device to buy right now. The Moto G still might be the reigning champion in this segment with better performance but it can't beat the Q1010i's camera.