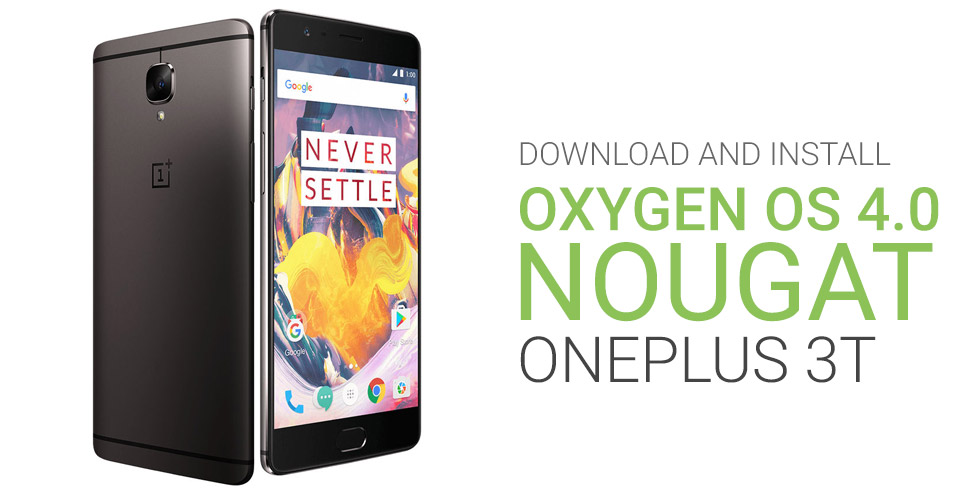 We have already published a detailed guide to installing Oxygen OS 4.0 (Nougat OTA) for the OnePlus 3, and now this is for the OnePlus 3T. The steps remain similar but you need to download different files for the OnePlus 3T. Now, with the new Oxygen OS 4.0 update you are also getting some new Nougat enhancements like multi-window support, direct reply in notifications and some OnePlus customizations like manual DPI scaling option. Now, this is the stable final build of Nougat for the OnePlus 3T and not the open beta. If you were on the beta we would recommend installing the full ROM as described below.
Now, there are two updates you can choose from, OTA update from Oxygen OS 3.0 to Oxygen OS 4.0 or you can choose to install the full ROM, your data will be preserved in both cases.
Things to keep in mind before manually installing Oxygen OS 4.0 (Nougat) on the OnePlus 3T:
Charge your phone to at least 50% before you begin with the installation, you can also keep it plugged in during the process.
This method and files are for the OnePlus 3T only, if you want to install Android Nougat on the OnePlus 3 then follow this guide here.
Download the correct OTA or Full ROM update package based on your need.
Just backup important data, although there should be no data loss.
Download Oxygen OS 4.0 for OnePlus 3T (Android Nougat)
Oxygen OS 3.2.8 to Oxygen OS 4.0 (OTA Update) - Download
OnePlus 3T Oxygen OS 4.0 Stable Full ROM - Download
Step-by-step guide to installing Oxygen OS 4.0 Stable on OnePlus 3T (Android 7.0 Nougat)
Enable USB Debugging from Settings > Developer options. If you don't see the option then go into Settings > About phone and tap on Build Number 7 times to enable Developer options.
Download ADB Platform tools and extract them to a folder. Keep the OTA Nougat update file in the same folder and rename it to "update.zip", makes it easier.
Power down your phone.
Once done, press and hold the power and volume-down key to enter the Recovery mode.
Now you need to choose "Install from ADB" and then connect the phone to your PC (Windows).
On PC open an Administrator Command Prompt in the folder you extracted in Step 2. You can do that from File menu or by pressing the Shift key when you right-click on your mouse.
On the command prompt, type "adb devices" (without quotes) and press enter.
If your OnePlus 3T is detected with "sideload" written next to it, you are all set. Else we need to run some more commands. Enter "adb kill-server" and once it executes, "adb start-server". Now, again enter "adb devices" and see if the phone is detected, if not try plugging it again.
Once the phone is displayed, type the following code and press enter: "adb sideload (name of update file).zip"
After the flash is successful, go back to the main recovery menu, clear cache. Then Reboot your phone.
That's it, you are done.
This was the complete guide to installing Android 7.0 Nougat based Oxygen OS 4.0 on your OnePlus 3T (OTA or Full ROM). If you need further help, please comment below and we would love to hear feedback on features of the new update.
Caution: We would not be held responsible if you brick your device, loose your data or for any other issue with your device. Proceed at your own risk.
Via: XDA-Developers
More:
How to install Android 8.0 Oreo on your OnePlus 3/3T (Official)