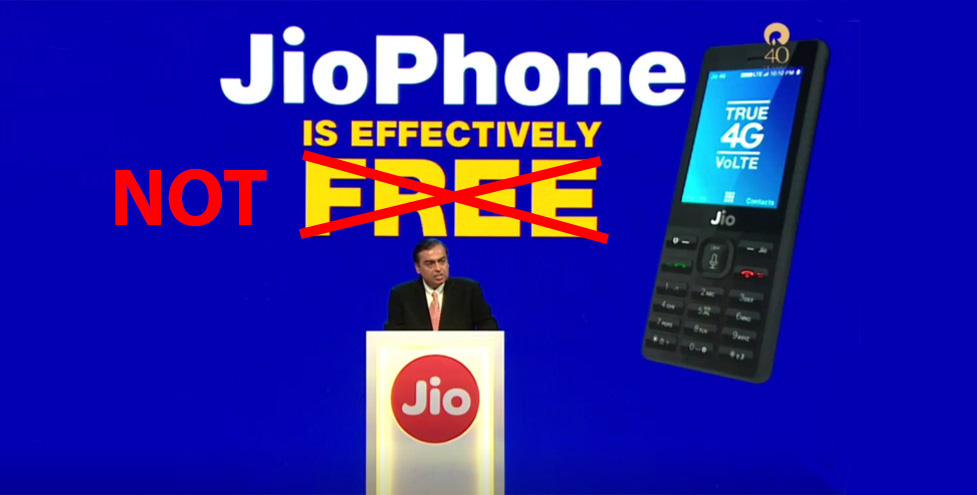 The JioPhone had created a huge buzz in the Indian telecom market with its cheap price tag and 4G VoLTE connectivity. It was hailed as the smart feature-phone for everyone. It costs only Rs. 1500 which you can get a refund for after 3 years, making it "effectively free" or so we thought.
Based on the fine print in the terms and conditions, a JioPhone user would have to recharge for at least Rs. 1500 every year to make the phone functional for 3 years. If you don't there will be penalty charges.
Let us analyze the total cost one needs to bear to have a functional Jio Phone handset.
First, we need to spend Rs. 1500 as a security deposit.
Then, you will have to make recharges of at least Rs. 1500 per year for three consecutive years.
Hence, the total cost comes all the way to Rs. 6000.
Given the company will refund the security deposit, the effective price is still Rs. 4500.
It may be an affordable amount for a smartphone user. Nevertheless, for a feature phone user, Rs. 1500 worth recharges in a single year might not be ideal.
What if you don't want to recharge for the specified amount and you like to return the Jio Phone before 3 years?
Well, you can do it and they will charge you Rs. 1500 as a penalty if you do it in the first year.
In case you do it after the first year but before completing the second, the penalty amount will be Rs. 1000
The penalty charges will be Rs. 500 if you submit the phone in the 3rd year.
Moreover, if you keep the phone without recharging it regularly, Jio has the right to ask you to return the phone and you will get the refund after they cut the penalty on the device.
Even after 3 years of using the phone and paying the regular monthly recharges, the Jio Phone should be in proper working condition to get the initial security deposit refund. Given that you now have all the information about the Jio Phone, it's time to decide whether you should actually get one.
You can read the detailed terms and conditions here.