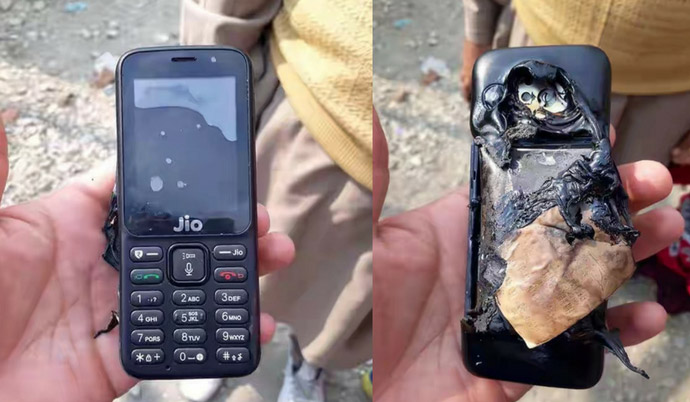 Over the last couple of months we have been hearing of Samsung, Xiaomi and Apple smartphones explode. But is we believe a new report coming out of J&K in India, a Reliance JioPhone has just exploded while charging.
According to a report from PhoneRadar, the phone exploded while charging and the complete back of the phone has melted, while there doesn't seem to be any significant damage to the front of the device. The charger wire also melted which may have been the cause of the battery exploding inside the phone.
Compared to traditional feature phones, the Jio Phone packs in a much larger 2000 mAh battery. But if you look at the phone, the battery seems to be quite intact, but it has expanded. The report also states that the battery of the phone is still in working condition, which does lend belief to something more nefarious at work.
Spontaneous battery explosions have been making waves in the industry and recently a Samsung Galaxy J7 caught fire mid-air in a flight in India. Similarly, the Apple iPhone 8 Plus too seems to be facing battery issues with expanding batteries which push its screen out of the frame of the phone. But the JioPhone incident seems a bit deliberate, especially considering that the original tweet has now been deleted.
A spokesperson for Reliance Retail added:
JioPhones are designed and manufactured with global standards, and each phone goes through stringent quality control process. The said incident has been reported to us. Our initial investigation suggests that this is a case of intentional sabotage. The damage to the device seems to have been intentionally caused. The incident, as well as its timing, has been designed by vested interests to malign the brand. We will take appropriate action based on further investigations.
Is there real cause for concern over the JioPhone exploding? Possibly not. But we will keep our eyes and ears open for any news that comes our way. To be safe, you should always use the bundled charger you get with a phone and never replace the battery yourself. Moreover, if your phone has bent or it seems bloated, you should immediately take it to a service center, preferably in a box. Do not try to charge a phone if you see its battery bloated or the display warped.