Motorola Moto G Dual-SIM is not just your average mid-ranger, it packs the specs and build of a high end device in a reasonably svelte shell and offers great performance. The Moto G is powered by a 1.2 GHz quad-core Snapdragon 400 MSM8226 processor with 1 GB RAM and either 8/16 GB of internal storage which is not expandable.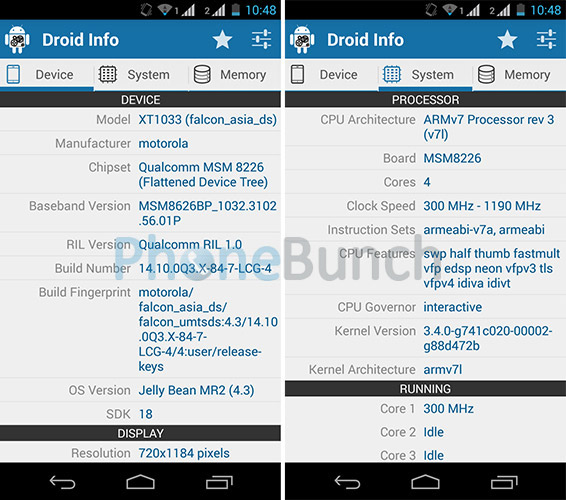 There's a 4.5-inch, 1280 x 720 pixels, HD IPS display on the Moto G which has great viewing angles. The graphics are powered by Adreno 305 while the 2070 mAH non-removable battery keeps running things. Android 4.3 Jelly Bean takes care of the software department but an update to KitKat is promised and already rolling out in other regions.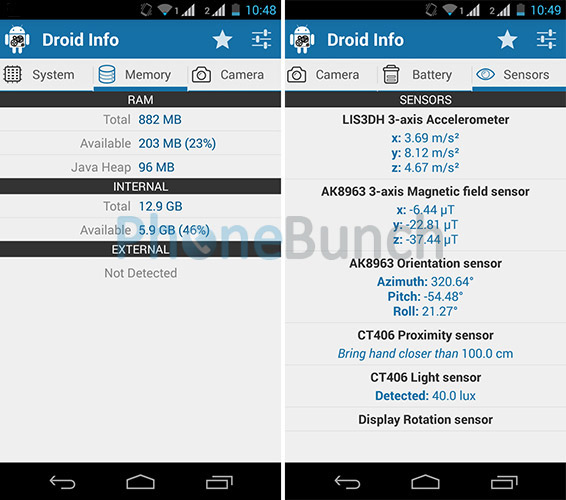 Let's have a look at the benchmark scores of the Moto G dual-SIM on AnTuTu, Quadrant, Vellamo, NenaMark2 and the likes to see how it fares. We also have a comparison of the Moto G with its chief competitors that are available in the market right now around the same price point.
Moto G Dual-SIM Benchmarks
Quadrant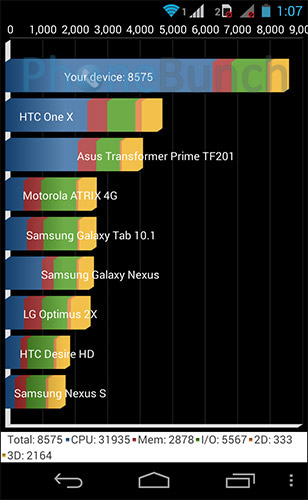 The Moto G Dual-SIM Indian variant scored 8575 on Quadrant which is quite a high score which easily beats the likes of MediaTek chipsets like MT6589 and MT6582 alongwith other dual-core offerings in the same price point including the Xperia L and the Galaxy Core.
AnTuTu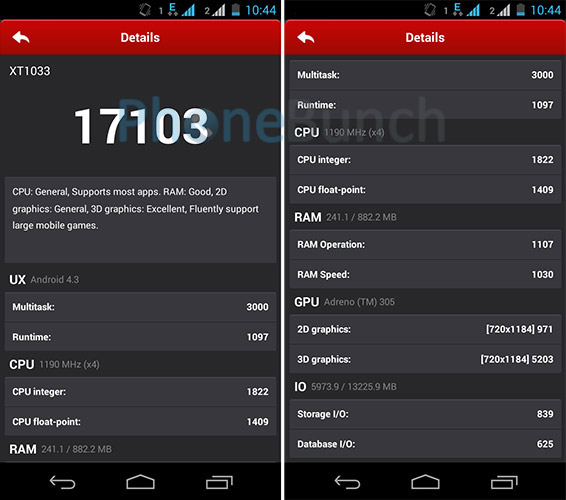 Quadrant scores are averaged out while AnTuTu gives an additive score therefore considering both we should have a good understanding about the performance of the Moto G.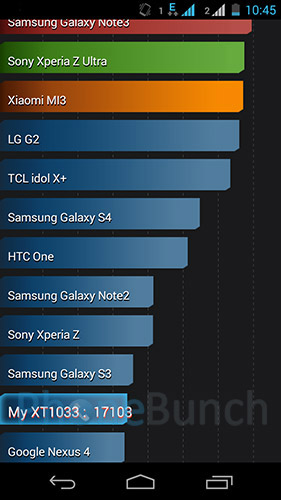 The Moto G Dual-SIM scored 17103 on AnTuTu which is again a good score, keeping it in the top among other quad-core offerings in the same price segment.
NenaMark2
NenaMark2 is a graphics benchmarks which gives a framerate telling how the GPU performs in the test. The Moto G Dual SIM got 57.7 FPS with its Adreno 305 GPU which means that even high-end games should be easily playable.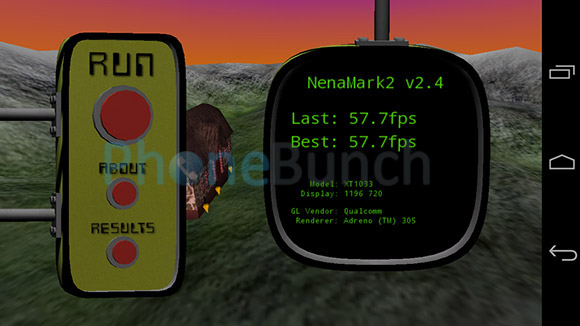 Adreno 305 on the Xperia L too scored in the similar range, so its good to see that the high-res HD display did not cause any bottlenecks in the graphics department.
Vellamo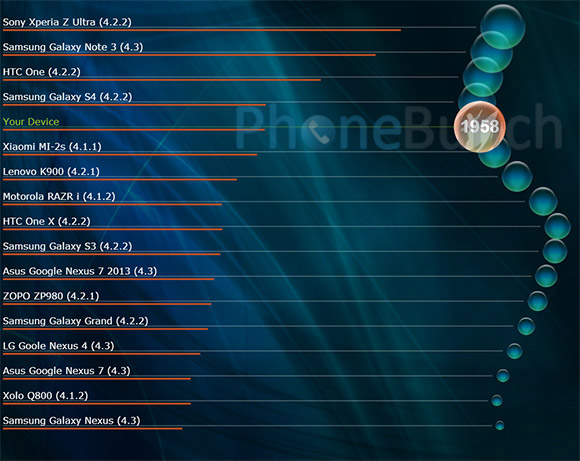 Vellamo runs a battery of tests including Sunspider and V8 Benchmark suite which test browser performance. It roughly gives an idea about how the phone will perform in general use. We got a score of 1958 on Vellamo HTML5 chapter with the Moto G which again is a respectable score putting it just below the Galaxy S4.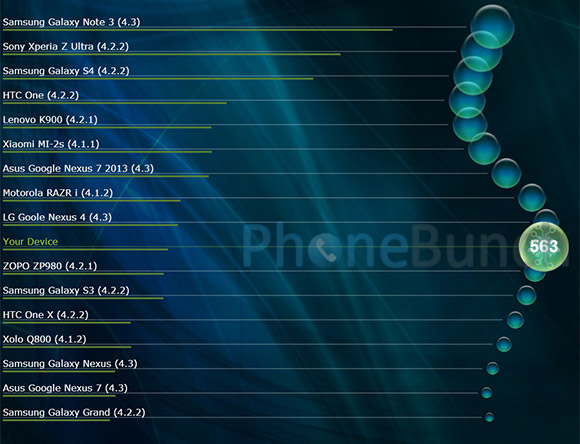 Vellamo Metal which tests the processor gave a good score of 563 to the Moto G Dual SIM putting it just below the Nexus 4 which too runs a quad-core processor.
Linpack
Linpack too is an OS and Processor dependent test. We got a score of 84 on the single-thread test and 215.68 on multi-thread test which puts is above the budget quad-core chipsets from both MediaTek and Broadcom.
Multitouch Test
The 4.5-inch HD display on the Moto G is no slacker and it proved that by supporting 5 points of touch.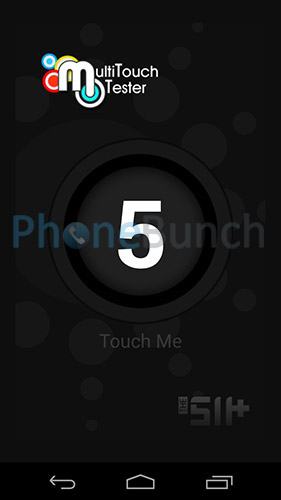 Its Corning Gorilla Glass 3 layer protects it from scratches but does not cause any issue with touch response.
Motorola Moto G Dual-SIM Indian variant Benchmark score comparison
We compared the Moto G with some of the smartphones available in the same price range including the Sony Xperia M, Xperia L, Samsung Galaxy Grand Quattro, Canvas Magnus A117 and the much expensive Sony Xperia C. These comprise the sub Rs. 20000 segment and it can be seen that the Moto G Dual SIM easily bests all phones in this segment.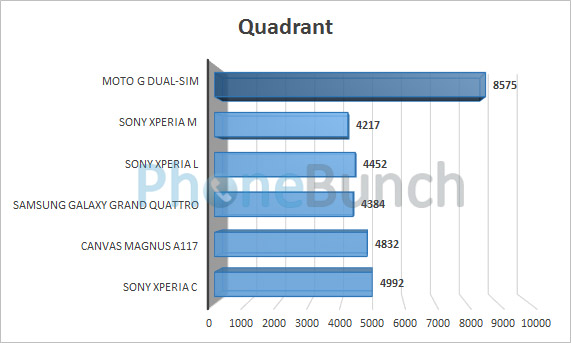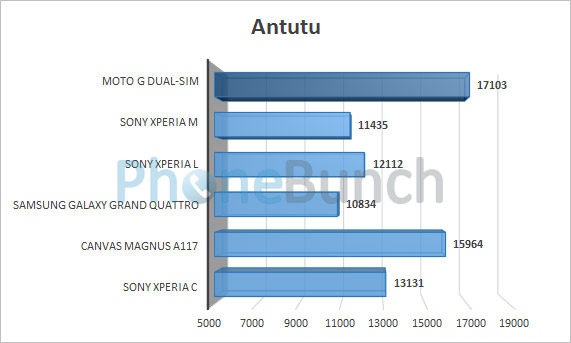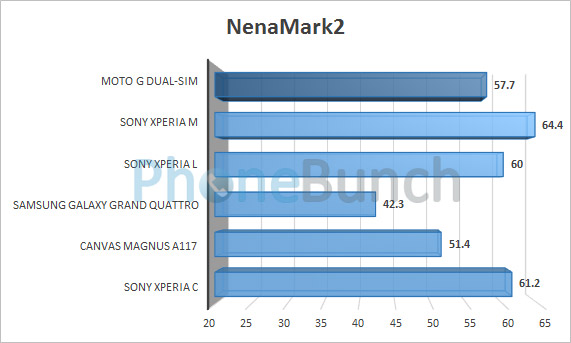 Conclusion
Moto G is a solid performer. There's no doubt in that and it seems that it will be able to handle high-end gaming too quite well. Given that the Moto G dual-SIM is available for around $200 in India as well as other regions, there is no doubt it should be the choice of the budget buyer. Even in the time that we have used it the phone never lagged and app launch times always remained around the minimum mark.
Multitasking too is a breeze. Stock Android 4.3 implements the new iteration of Project Butter which is supposed to make animations smoother and performance better, this can be seen on the Moto G. We can only hope that after the Android 4.4 KitKat update performance becomes even better. But that's saying something since even today, the Moto G beats any phone available within the sub Rs. 20000 bracket easily.