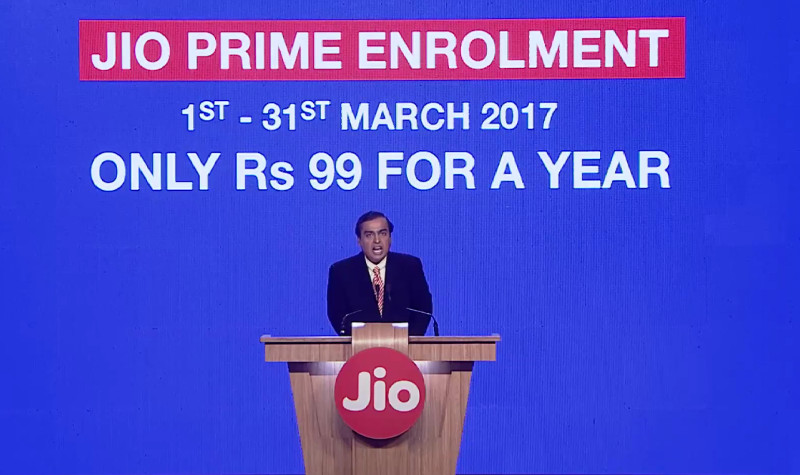 Reliance Jio today announced the end of free data along with a lot of usage statistics which both show the scale the operator has been working on, 100 Million users now, and the new Jio Prime Membership offer. The new package will allow subscribers to get all the benefits of the Happy New Year offer for another year, till March 31st, 2018.
Here is everything you need to know about it
Prime Membership costs Rs. 99 for the entire year but then there's the monthly rental. This is merely the registration fee which you would need to pay once a year.
Per month you would have to pay Rs. 303, which amounts to about Rs. 10 per day. Now, remember this is for 30GB of data per month or 1GB per day, which makes it a real bargain.
The limitations imposed during the Happy New Year offer remain where you can use up to 1GB data per day and then speeds are reduced to 128 kbps. Domestic SMS and calls will remain free. Moreover, you will also be able to take advantage of all the Jio services alongwith exclusive offers from Uber, Samsung and others.
You can apply for Prime Membership starting March 1st from a Reliance Digital Store, My Jio app or from the official website. Registration ends March 31st 2017.
There will be NO free data after March 31st 2017.
This is still a very tempting offer, given that even today other carriers are charging upto Rs. 300 for 1 - 1.5 GB of data a month while you are getting 30X the benefits from Jio. But the Jio network is still not quite stable, making calls is still as unreliable as it was before while data speeds have stabilized. After 31st March you will also be able to choose any of the other plans which start at just Rs. 149.