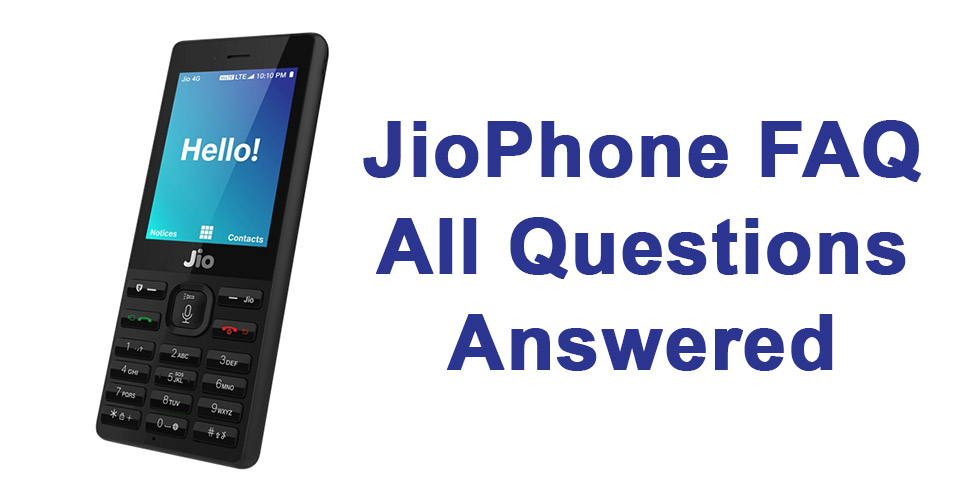 Reliance Jio, after revolutionizing the Indian telecom market, announced the cheapest 4G phone in the world, the JioPhone. Even though shipments have now begun, there is still some confusion surrounding the Jio Phone. Hopefully, everything will be cleared after going through this post. Moreover, you should understand all these points clearly before buying the JioPhone.
Q. When will I get the JioPhone?
Deliveries of the JioPhone have already begun. Due to the unprecedented number of pre-orders, the shipment would be delayed a bit. Moreover, the phones will be delivered on the basis of when you registered for it.
Q. Does it have WiFi Hotspot?
No, it doesn't have portable WiFi hotspot facility. There is no tethering available on the JioPhone.
Q. Does JioPhone have dual SIM slots?
No, it doesn't and thus you can't pop in more than one SIM cards into it. The JioPhone is not a dual-SIM Q. smartphone.
Q. How much is the on-board storage on the device?
The internal storage is 4 GB and you can expand it up to 128 GB using a microSD card.
Q. Can we use WhatsApp on JioPhone?
No, you can't. However, Jio is working on a light version of WhatsApp to be able to use on the phone. BUt there is no word on when WhatsApp for JioPhone app will be launched.
Q. What about the battery-life of the phone?
Considering the 2000 mAh capacity, the JioPhone easily lasts more than 2 days on a single charge even with heavy use. After all, it isn't a power hungry smartphone. This is keeping in mind that you are making more than 2 hours of calls in a day, browsing the web and watching videos for more than 2 hours each.
Q. Does JioPhone have a selfie camera?
Yes, the JioPhone houses a VGA camera in the front.
Q. Does the JioPhone run on Android and can I download apps on it?
No, JioPhone runs on Kai OS, based on Mozilla micro-linux architecture. Moreover, the phone has its own app store to install compatible applications but you won't most apps there.
Q. Does the phone support voice commands?
The JioPhone supports voice commands and is able to understand our accents quite well.
Q. Can I return the phone within 3 years to get my money back?
No, you can't. If you try to do so, Jio will impose a penalty (first year- Rs. 1500, second year - Rs. 1000, and third year- Rs. 500). You can read more about it here.
Q. Do I have to recharge after buying the phone?
Yes, you have to recharge for at least Rs. 1500 per annum for three years or roughly about Rs. 150 a month. If you fail to do so, the phone won't function. Neither calls nor data will work.
Q. Can I keep the device without recharging?
Nope, you can't. The company reserves the right to confiscate such devices. And once that happens, you will be forced to pay the penalty along with GST and other taxes applicable on the payment.
Q. Is it possible to return JioPhone anytime after three years?
You will get the refund of Rs. 1500 if you return the phone after three years. However, this benefit stays live only for the first three months after the completion of three years. Means, you won't get your money back after 39 months (three years and three months) of getting your JioPhone.
These are all the questions people have been asking us about the JioPhone, we hope this resolved all your queries. If you have more questions, you can shoot them directly through our social media channels.