Samsung Electronics is introducing its next-generation ISOCELL 0.7 micrometer (μm)-pixel image sensors where the 108-megapixel ISOCELL HM2, the 64Mp ISOCELL GW3, the 48Mp ISOCELL GM5, and the 32Mp ISOCELL JD1. These range from 1/2.55″ to 1/3.14″ in size and can shoot up to 120fps at 4K.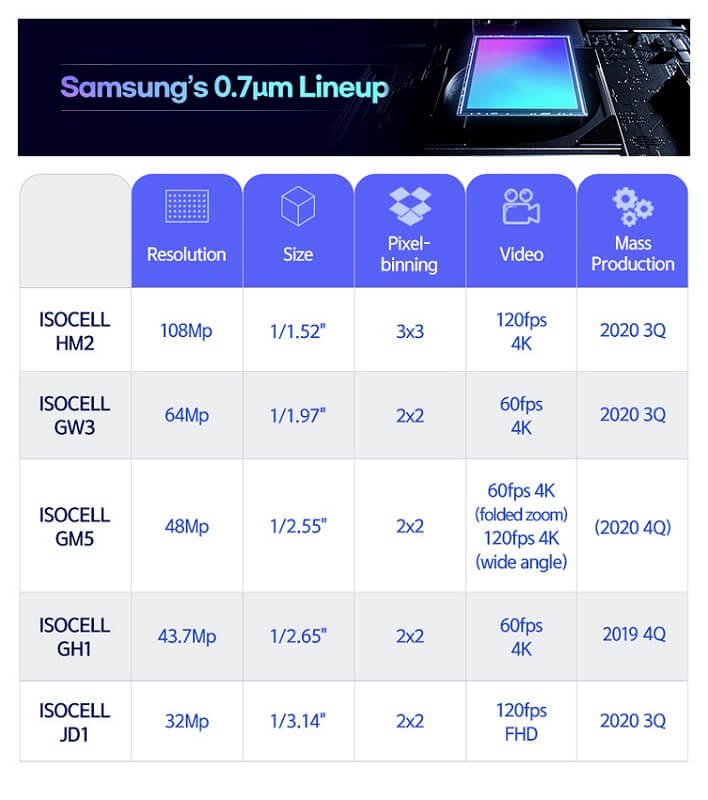 Features -
The ISOCELL HM2 is a Samsung's 3rd generation 108MP sensor capable of the faster and more effective phase detecting autofocus solution and nine-pixel binning technology.
The ISOCELL GW3 is a 64 MP image sensor that features Tetracell, Smart-ISO technologies, and gyro-based (EIS).
The ISOCELL GM5 is a 48MP image sensor that is used as telescoping or ultra-wide-angle cameras supporting high-speed full-HD recording at 480fp, and a staggered-HDR feature that can provide brighter and clearer images with less noise.
The ISOCELL JD1 is a 32MP image sensor that size is 1/3.14-inches, which is perfect for punch-hole display cameras or pop-up camera mechanisms, and it also supports staggered-HDR.
The ISOCELL HM2, GW3, and JD1 are currently in mass production, while the GM5 image sensor is still in its sampling stage.