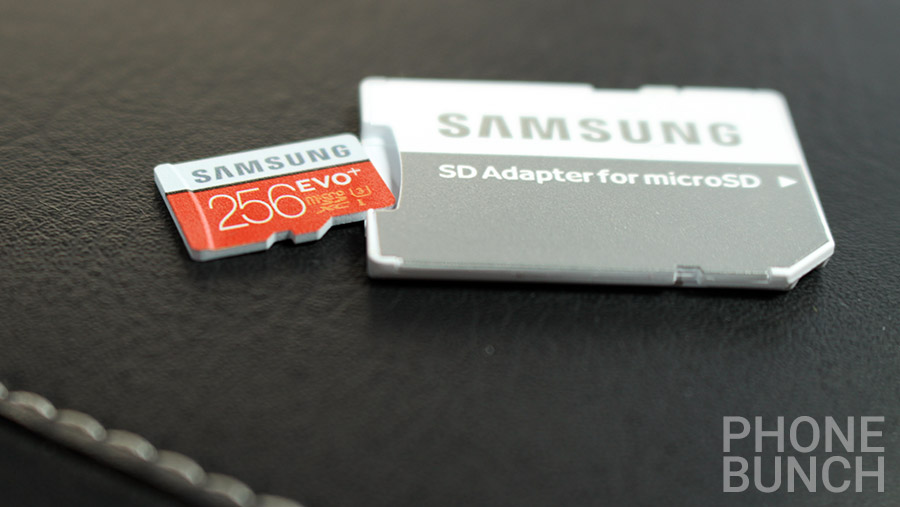 Announced back in May 2016, the 256GB Samsung Evo Plus was the first microSDXC card to offer that capacity for use in smartphones and tablets. The Evo+ microSD cards use the same 48-cell layer V-NAND technology also found on Samsung solid state drives for bigger capacity and faster speed. Then it's also one of the very few U3 certified cards in that capacity, which I will explain in the next section sections.

The Evo+ 256GB microSD card is rated for 90MB/s read and write speeds which is exceptional for a card in its class and it's certified to work for 4K Ultra HD video recording. With this large capacity, you can record 12 hours of 4K UHD video, 33 hours of full-HD videos or store more than 55,000 photos without the need to swap storage.
Features
While choosing a microSD card there are three things you should keep in mind speed, price, and warranty. On the reliability front, Samsung says that the 256GB Evo+ card is water resistant, can withstand both high and low temperatures, is unaffected by magnetic fields and is resistant to X-rays too.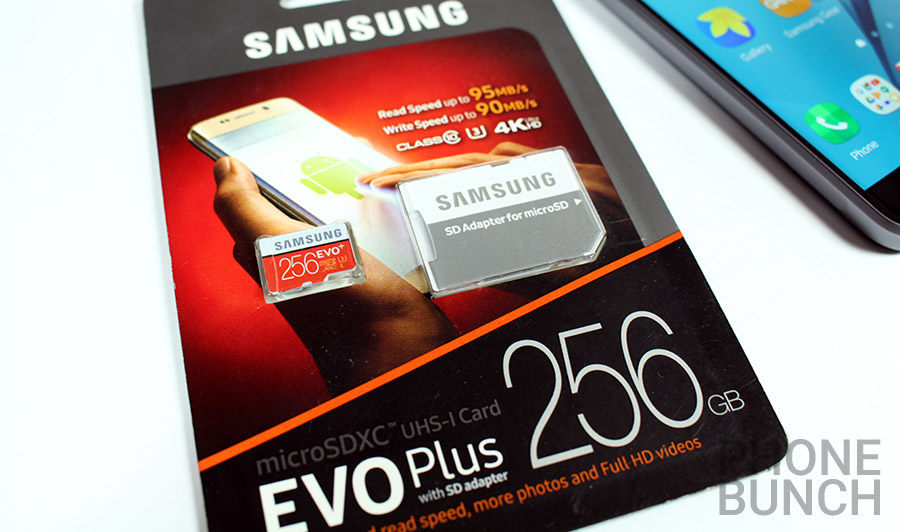 Samsung is so confident about the reliability of the card, that you get 10-year limited warranty on it.
Samsung's acclaimed V-Nand storage technology which they have used on their high-end solid state drives has been used on this microSD card as well. This allows for larger capacity in a very tiny package which in turn gives faster speed. Now before I talk about the tests we ran on the card, here's a look at what MicroSD classes mean when we say UHS 1, 3 or Class 10.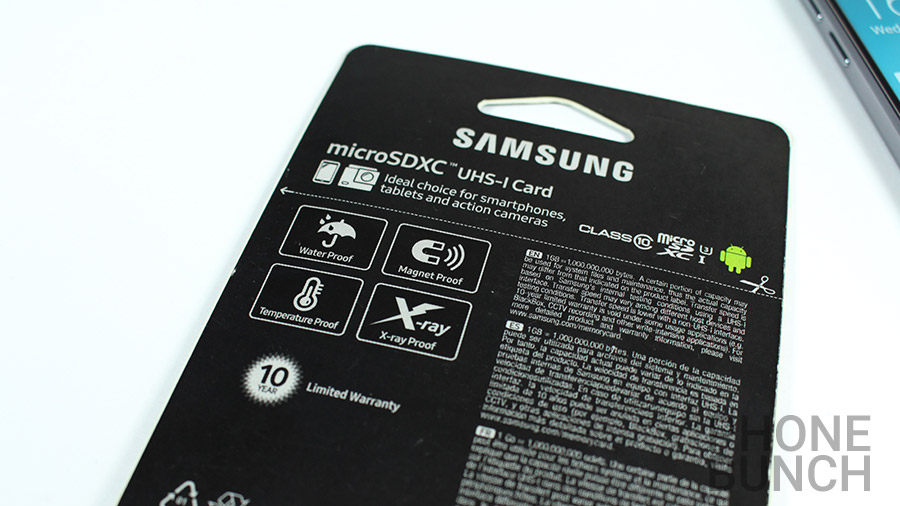 MicroSD Card Classes
Now, just to give you a brief on memory card classes, typically you will see SD cards with 1, 2, 4 – 10 written on them. These denote the minimum guaranteed speeds of cards. Say you have a class 2 card, then it will be guaranteed to give a minimum writing speed of 2MB/s and a class 10 card, a minimum of 10 MB's. Now, you may ask what's that U3 is written on the card. So, for standardizing higher performance cards above class 10, the Ultra High Speed or UHS classed were born.
Typically you will see U1 or U3 written on these high-performance cards, with U1 you get a minimum of 10 MB/s write speeds while U3 cards give at least 30MB/s. A U3 card is required for recording 4K videos, so if you want to store all your 4K videos on the microSD card on your phone or tablet, you would have to go with a U3 card and then you also need higher capacities.
Testing and Benchmarks
Since microSD cards are generally used on smartphones and tablets, we tired focusing more on random read/write speeds since data is generally saved in small scattered chunks on the card. On PC we chose CrystalDiskMark for testing both random as well as sequential read and write speeds with a USB 3.0 card reader while on Android we used A1 SD Bench.
After multiple runs on both software, here are the results:
On Android, the Samsung Evo Plus gave us 51.04 Mb/s Read and 41.86 MB/s write speed.
With CrystalDiskMark Sequential test we got 94.8 MB/s read and 88.2 MB/s write speed which is very close to the advertised performance for the card. On the Random 4K test, we got 8.78 MB/s read and 3.5 4MB/s write which is higher than any other card we have tested till now including SanDisk's Extreme Plus series performance cards. Just to give you a brief comparison, the Sandisk Extreme Plus 64Gb card came close with 91.2 MBps read speed and 63.1 MBps write speed. Compared to basic class 10 cards, the Evo+ 256GB microSD card exhibited almost quadruple the performance in random 4K read/write tests.
Given the faster speeds, higher reliability and the increasing consumption of 4K footage, Samsung Evo Pus 256GB microSD card does make sense but it doesn't come cheap.
Care and Maintenance
MicroSD cards are generally very durable. They can withstand high temperatures, and during their lifespan, your data is also preserved against any kind of corruption. These are far better in reliability over other forms of storage including magnetic drives. But these are small and more often than not, they get ruined by being trampled, bent or just get lost. To avoid losing your photos and videos, it is always advised to get a case if you use multiple microSD cards, say with your GoPro, Phone or even your DSLR with an adapter.
MicroSD cards should be protected against pressure, and generally kept in clean, and dry conditions. If you want to take them out of your phone, always remember to un-mount them from storage first and do the same when using on your PC. This will reduce the risk of losing files and help in avoiding data corruption.
Competition and Conclusion
Among the cards we have tested Sandisk Extreme Plus series comes close in performance to the Samsung Evo+ 256GB, but the Evo Plus beats out similar options with better performance on Android smartphones as well as better random read and write speeds.
All cards in this class are quite expensive (about $200 or more) and are aimed at enthusiasts who shoot high-resolution videos/photos and need the additional bandwidth as well as reliable storage. For them, the Evo+ 256GB microSD card should be an easy upgrade.
Buy Now (Amazon): Samsung 256GB Evo Plus MicroSD Card