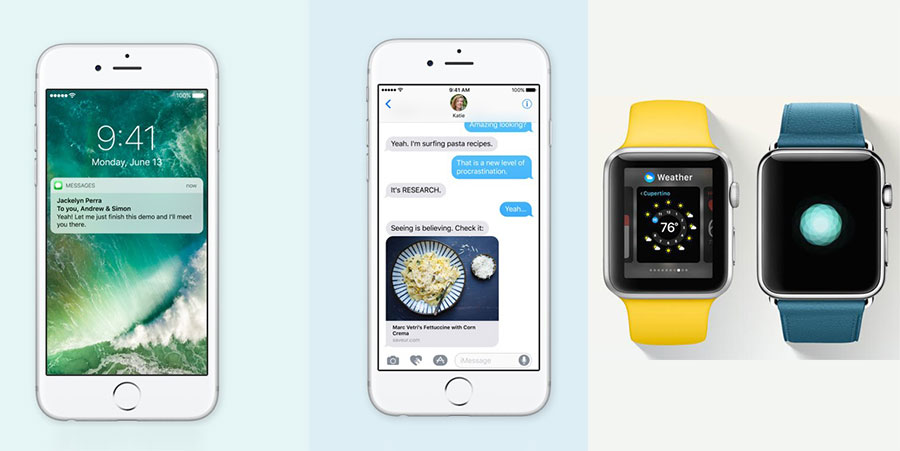 Apple has confirmed that it would be rolling out both iOS 10 and WatchOS 3 update starting September 13th.
iOS 10 brings a lot of new features to Messages app including new animation, stickers, auto-embed audio / video links, better Siri integration, overhauled Maps, Music and New Apps. iOS 10 will be a free upgrade for anyone using the iPhone 5 or higher, iPod Touch 6th-gen, iPad 2 or above, iPad 4 as well the current-gen iPad and iPad Pro models. The iPhone 7 and iPhone 7 Plus would run iOS 10 out of the box.
You can check out more features of iOS 10 here.
While the Apple Watch Series 2 will launch running WatchOS 3, the first-gen Apple Watch will also be getting the update on September 13th. The new update would make apps launch instantly, you will also get a 'dock' to list frequently used apps instead of going back to the crown interface. There are several new watch faces that have been added as well alongwith handwriting recognition.
Apple has also added some neat features to their smartwatch with apps, first is a SOS feature which can be activated by tapping on the side button your Apple Watch which calls the emergency contact number of your country and also sends a message to your emergency contacts with your current location. You can also use the Breathe app to get some relation throughout the day with deep breathing exercises while an activity ring keeps track of your steps and other fitness data.
You can check more features of WatchOS 3 from here.