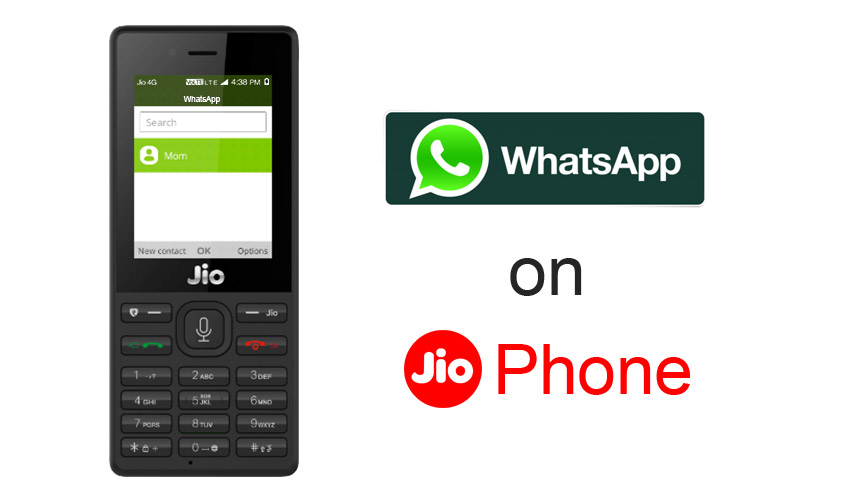 The Jio Phone was first launched in July, and then it came to the market in September. The device sold in huge numbers due to the fact was it was effectively a free phone with all the Jio benefits. However, one of the major cons of the device was that it didn't support WhatsApp and there was no way to install a WhatsApp app on the JioPhone due to it running on proprietary KaiOS.
It has been months since the launch of the Jio Phone but WhatsApp doesn't seem to be working on a version for the phone. That's when Browserling, a web-based cross-platform website testing tool came into the picture. By registering for Browserling's free plan you could open the web version of WhatsApp on the JioPhone and start sending messages.
Essentially, by using Browserling on the JioPhone, you make WhatsApp think that it is being accessed from a PC. Although earlier access was blocked by the company, but now Browserling has created a special page for Jio Phone users. The company is currently trying to find a way to monetize access to WhatsApp through its service. You can choose from an unlimited Rs. 9 per week pass, Rs. 19 per month or Rs. 99 for a year. You can also enter the lottery where you may be able to win free access.
However, the CEO of Browserling, Peter Krumins, maintains that they are still trying to find the best fit for monetization as out of about 100,000 users, only about a 100 have paid for the service. He was talking with Gadgets 360 as to how he thought the sudden rush from India was a DDoS attack, but was later able to identify as Jio users trying to access WhatsApp.
Steps to use WhatsApp on Jio Phone without installing app or root (Tutorial):
Head to the Browserling Jio page here: https://browserling.com/jio
Register for a free account with your email address, phone number and password.
Once done, you will be able to buy one of the plans mentioned above or fight to win free access in the lottery.
That's it, once you get access, open the browser app on your Jio Phone.
Open Browserling website and then login at the URL in Step 1.
Enter web.whatsapp.com as the URL in the Browserling interface by choosing Chrome as the browser and browse to it.
Then you will be presented with a QR code, you need to scan this with the WhatsApp Web feature on your Android/iOS smartphone.
To do that, open WhatsApp, click on the overflow (three dots) menu and click on WhatsApp Web and add a new device with the '+' sign.
Then point your smartphone's rear camera towards the display of the Jio Phone and let is scan the QR code.
Once the scanning is complete, your WhatsApp account will automatically show up on your Jio Phone with all your previous chats and contacts.
You can then start sending WhatsApp messages right from the JioPhone using its keyboard.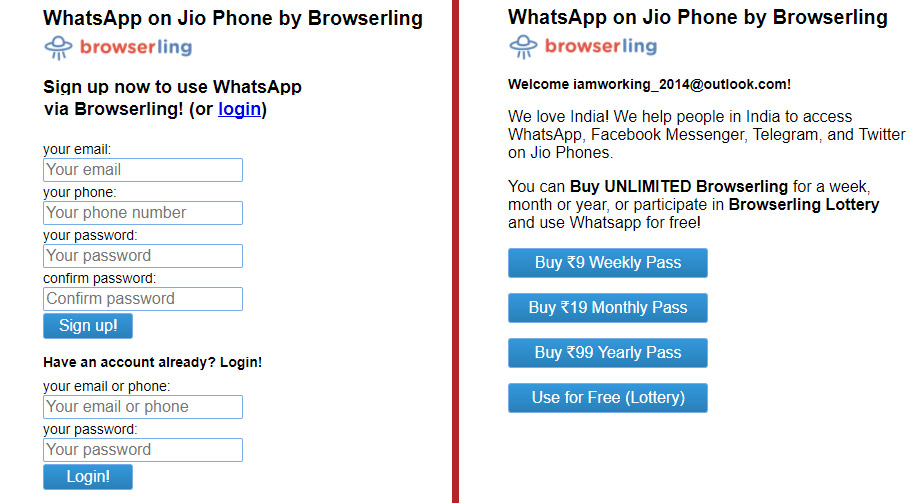 There are a lot of other concerns surrounding the Jio Phone which all have been answered in this post.