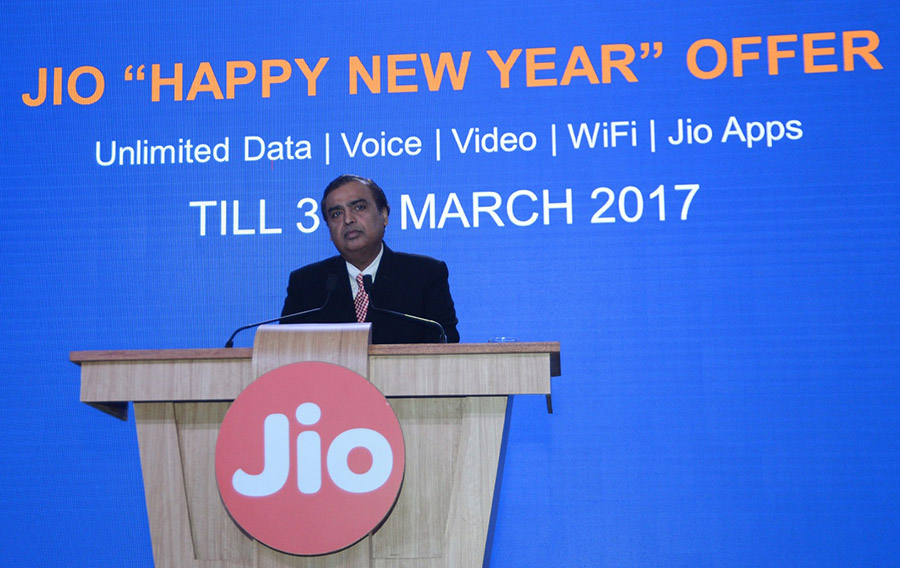 After weeks of speculation, Reliance Jio formally announced that it will be extending free 4G voice, data and access to Jio apps until March 31, 2017. All current users will be migrated to the new "Happy New Year" offer come January 1st. Now, for new subscribers too you will be able to get onboard the Jio 4G New Year offer starting December 3rd.
There are a few changes between the Jio 4G welcome offer and the happy new year offer. First, instead of data being capped at 4GB per day, you will be able to get 1GB data per day cap of high-speed data after which speed will be reduced to 128 kbps. Mukesh Ambani added further that only 20% Jio customers were able to use more than 1GB data per day, and it's this skewed ratio that made them switch to the new data cap so as to ensure peak network performance for all users and not just data leechers.
Another point worth noting is that Reliance Jio has already crossed 50 million subscribers, making it one of the fastest growing start-ups in the world as the feat was accomplished in just 83 days of the welcome offer going live. Speaking about Jio's success Mukesh Ambani added that they have enrolled eKYC in over 2 lakh outlets in the country and have also begun home delivery fo SIM Cards (more on it here.)
Regarding dropped calls from Jio to other networks and vice-versa he said that the call block rate from incumbent operators has come down from a whopping 90% which saw 900 crore voice calls being blocked down to about 20%.
With the new Happy New Year offer for prospective and current Reliance Jio users, MNP or Mobile number Portability was also officially announced. Starting December 3rd, you will now be able to port your existing mobile number to Reliance Jio's network but we would strongly advise against that. Call drops are still a major issue with Jio 4G and the network still doesn't have as good a reach in rural or semi-urban areas as Airtel does. While the new 1GB FUP limit may help data speeds for Jio users, call drops still haven't come down to an acceptable number for use as a primary SIM card. For now, the free Reliance Jio party continues till March 31st and I am going to use it as my second SIM card, just for data and nothing else.